​Ukrainian military commander arrested over torture, rape – and unit disbanded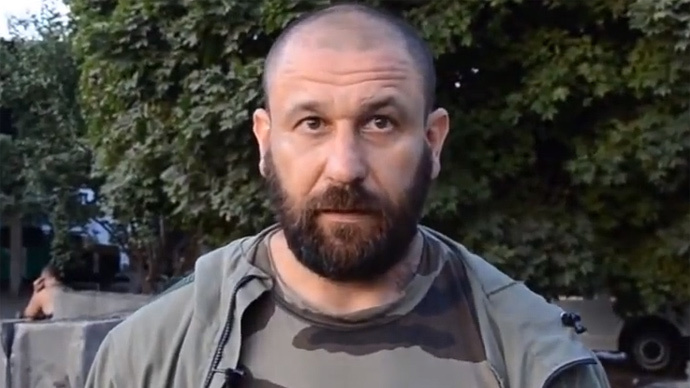 A police commander in Ukraine, who has previous convictions for violent crimes, was arrested for kidnappings, torture and rape.
Fighters of his 170-strong unit mutinied and claim that their chief was the victim of corrupt officials profiting from contraband.
The flash conflict between the so-called Tornado battalion and Gennady Moskal, the head of the Kiev-controlled part of the rebellious Lugansk Region in eastern Ukraine, erupted Wednesday. Tornado detained a freight train going from the rebel-controlled areas to a factory located in Kiev's area of influence.
The unit's leaders claimed that the train was carrying contraband. Moskal said the cargo was a legitimate coal delivery and accused Tornado of an illegal seizure.
"They did it for publicity's sake to cover up numerous crimes that the unit had committed in Lugansk Region," Moskal said on his website.
Apparently the official's opinion weighed more as Tornado commander, Ruslan Onishchenko, and seven of his men were arrested on the same day.
Onishchenko is now suspected of creating a gang that committed numerous crimes between January and March 2015, Ukrainian Chief Military Prosecutor Anatoly Matios told journalists. He and his subordinates are accused of killings and other violent crimes.
"This gang enrooted in a police company found a place in the basement of a school… to keep local residents they abducted, prepared it to commit acts of violence, beatings and torture, to people they illegally detained," the prosecutor said.
READ MORE: Ukraine's neo-Nazi leader becomes top military adviser, legalizes fighters
Among the alleged crimes of the gang is at least one gang rape of a man, which was caught on camera, he added.
Interior Minister Arsen Avakov ordered that the unit were disbanded at Moskal's request. He said the entire unit would be screened for suspected criminals.
Disarming Onishchenko's fighters may prove more difficult than ordering the unit disbanded. The unit is barricaded off at their base and is threatening to open fire if the base is stormed. Tornado has not only firearms but also heavy weapons and armored vehicles at their disposal.
One of the disgraced commander's officers, Nikolay Tsukur, accused the Ukrainian authorities of an illegal crackdown.
"I have no doubt that the charges were fabricated since they appeared after our first reports on the scale of contraband. We declare that we are not a gang; we are people who had been on the front line from day one even though being policemen we should have been in the second or third line of defense, according to the law," he wrote on his Facebook page.
"If they considered us criminals from the start, why have they entrusted us with weapons?" he added.
Later, one of the Tornado fighters told Channel 5 that the battalion will obey Avakov's orders.
"We have been informed of Avakov's order on our unit's disbandment…. We won't deviate from the order but we want society to be involved in the investigation of what we are accused of," he added.
Tornado's downfall is hardly unexpected. The unit is one of two formed from fighters from its predecessor, Shakhtyorsk. The latter was disbanded in October 2014 over multiple cases of looting, with Shakhtyork deputy commander Onishchenko moving on to take charge of the reincarnated battalion. On Tuesday, the unit celebrated its first anniversary.
The man himself is a controversial figure. He has no less than five convictions for crimes including robbery, kidnaping and extortion. Some of Tornado fighters are reportedly career criminals as well.
The criminal past however was dismissed as mistakes "from the turbulent 1990s," to quote Avakov's aide Anton Gerashchenko. In August last year, the official praised Onishchenko as a brave fighter against "Russian occupation" with a $100,000 bounty on his head from the rebels.