Journalists blast Israeli govt cartoon mocking Gaza news coverage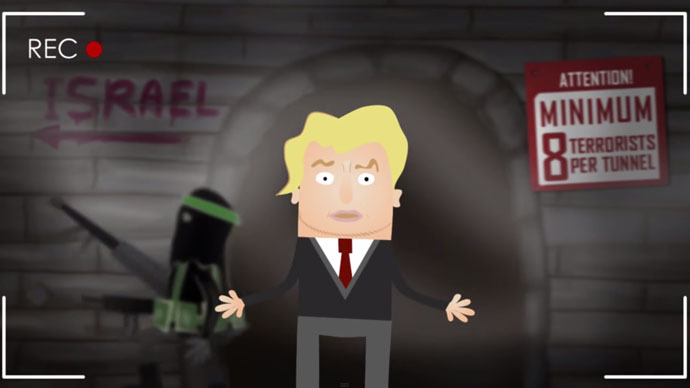 Israel's Foreign Ministry has produced a 50-second cartoon mocking foreign reporting on Gaza, urging people to see that "terrorism rules" there. Apart from arguably lacking comedic value, the clip was slammed as being in poor taste by international media.
The animated short shows a blond, presumably American reporter in Gaza talking about how it's a modern society where "ordinary people" are just trying to live their lives – "no terrorists here." As the reporter's praise for the locals continues, Hamas member can be seen in the back launching rockets.
The underground tunnels Hamas is building are seen by the reporter as "a fascinating attempt by Hamas to build a subway system… which will bring Gaza's transportation system into the 21st century."
This continues until a female reporter places a pair of glasses on the male reporter's face so he could "see the reality of life under Hamas rule," causing him to faint in shock.
Parade of Propaganda Promos | World through the eyes of @IsraelMFAhttps://t.co/R76AGtTbwC#Palestine#Israelpic.twitter.com/cKrlVfuYmf

— IN THE NOW (@INTHENOWRT) June 16, 2015
The cartoon culminates with the woman's upbeat, receptionist-like tone as she declares: "Open your eyes. Terrorism rules Gaza."
The Foreign Press Association (FPA) has struck out at the decision to produce the cartoon in a statement, insisting that this is not what Israel needs if it wants to be taken seriously by the international community.
"The Foreign Press Association is surprised and alarmed by the Israeli Foreign Ministry's decision to produce a cartoon mocking the foreign media's coverage of last year's war in Gaza," the statement reads.
"At a time when Israel has serious issues to deal with in Iran and Syria, it is disconcerting that the ministry would spend its time producing a 50-second video that attempts to ridicule journalists reporting on a conflict in which 2,100 Palestinians and 72 Israelis were killed.
READ MORE: 'Anti-Israel mandate': UN human rights envoy blocked from entering Gaza
"Israel's diplomatic corps wants to be taken seriously in the world. Posting misleading and poorly conceived videos on YouTube is inappropriate, unhelpful and undermines the ministry, which says it respects the foreign press and its freedom to work in Gaza," the FPA said.
Israel's Foreign Press Association is a nonprofit representing about 500 international journalists reporting from Israel, the West Bank and Gaza Strip.
It seems #Israel's foreign ministry thinks the way to be taken seriously is to produce cartoons mocking the press http://t.co/Ei2vCVjPKD

— Luke Baker (@LukeReuters) June 15, 2015
Meanwhile, the Israeli government has denied UN human rights envoy Makarim Wibisono entry into Gaza for a second year in a row, just as a UN report on the war last year is about to be made public.
Israeli Foreign Ministry spokesman Emmanuel Nahshon believes Israel is within its rights to deny entry, as it "cooperates with all the international commissions and all rapporteurs, except when the mandate handed to them is anti-Israeli and Israel has no chance to make itself heard."
Wibisono is attached to the UN Human Rights Council (UNHRC), which is about to release its findings from an investigation into alleged war crimes Israel may have committed during last year's war in Gaza.
You can share this story on social media: