'Unexplored territory': Robots to build 3D-printed bridge across Amsterdam canal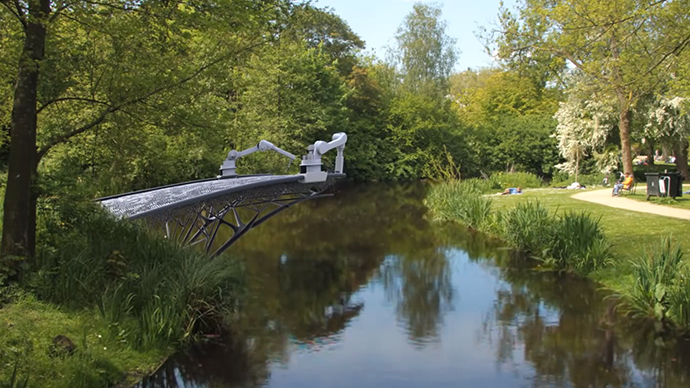 There are more than 1,200 bridges cross the canals of Amsterdam, but one may soon stand out more – because it will be 3D-printed and built by robots. The machines will create the bridge mid-air, constructing their own supports along the way.
The ambitious plan will rely on robotic 3D printing technology, which essentially makes it possible to draw structures in mid-air. The technology belongs to MX3D, an Amsterdam-based metal printing firm.
"We research and develop groundbreaking, cost-effective robotic technology with which we can 3D print beautiful, functional objects in almost any form," MX3D wrote on its website.
"The ultimate test? Printing an intricate, ornate metal bridge for a special location to show what our robots and software, engineers, craftsmen and designers can do."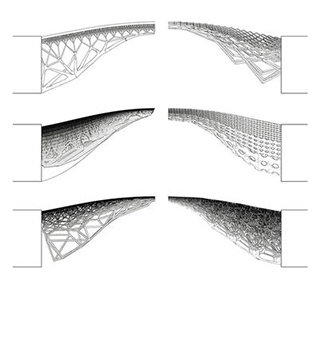 The robots will be printing in steel, using special arms that heat up the metal to 1,500° C (2,732° F) before welding the structure, resulting in a strong and durable pedestrian bridge.
Those behind the project hope the entire process will take place on-site, with the robots creating their own rail supports as they go along – allowing them to move across the water as they build the bridge.
The bridge's designer, Joris Laarman, has called the project a "fantastic metaphor for joining the technology of the future with [Amsterdam's] historic past."
While the project is noteworthy on its own, it could lead to much bigger things, marking the beginning of on-site, 3D printed infrastructure projects.
"3D printing like this is still unexplored territory and leads to a new form language that is not bound by additive layers. Lines can be printed in that intersect in order to create a self-supporting structure," Laarman's lab said on its website. "This method makes it possible to create 3D objects on any given working surface independently of its inclination and smoothness in almost any size and shape."
The team has already tested the robotic printer, creating a metal sculpture of intersecting lines. That success inspired them with the confidence to launch the bridge project, which they have referred to as "a large-scale object that is functional and meaningful."
Several designs of the bridge have been shared by MX3D, all of which involve a cantilevered arch. The final design, however, has yet to be revealed.
That, along with the exact location of the bridge, will be announced "soon," according to MX3D.
The steel bridge will be designed by Laarman, using Autodesk software. Heijmans construction firm, ABB Robotics, and Amsterdam City Council are also part of the project, along with many others.
The estimated completion date is 2017. A visitor center in Amsterdam is scheduled to open in September, allowing people to follow the project's progress.