Tbilisi Zoo begs authorities, residents not to kill wild animals on the run (PHOTOS, VIDEO)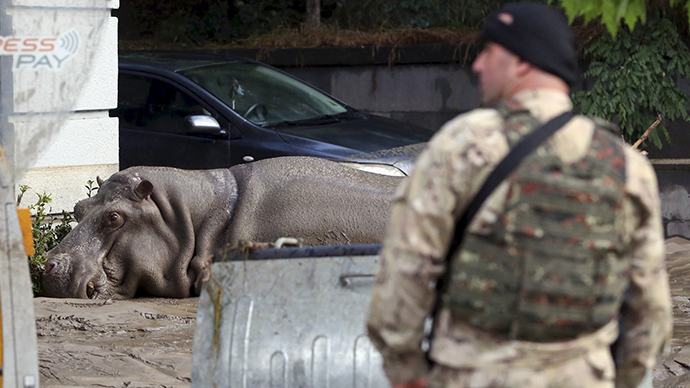 The head of the Tbilisi zoo is urging law enforcement agencies deployed in the Georgian capital to avoid, unless absolutely necessary, killing wild animals which escaped the park and are roaming the streets of the city in the aftermath of a massive flood.
"In the case of a predator attacking a man, its liquidation is understandable. But many cases have to be explained. I know for surethere was no order to kill issued. Just maybe someone has exceeded the authority,"Tbilisi Zoo director Zurab Gurielidze, told journalist on Sunday.
Немного хорошего. В огороде одного из частных домов Тбилиси прятались медвежата, сбежавшие из зоопарка. Живы милахи pic.twitter.com/jvG7osgpXo

— Новости. Как есть (@nourlnews) June 14, 2015
The zoo administration confirmed that they found a young white lion named Shumba dead.
"Our Shumba is no more. He was found shot in the head," a zoo rep told reporters.
В зоопарке Тбилиси затрудняются с подсчетами беглых животных http://t.co/SfzJjxLcbxpic.twitter.com/UqFswDZ79G

— РСН (@rusnovosti) June 15, 2015
Several wild animals were prowling the streets of Tbilisi on Sunday, after heavy flooding allowed them to escape the confines of the city's zoo. Special forces were deployed to tranquillize or shoot the beasts dead. Many animals also died in the flooding.
READ MORE: Georgian capital flood: 12 killed, zoo animals escape, several shot dead (PHOTOS, VIDEO)
Council workers were seen dragging the carcasses of tigers and lions into the back of trucks as the clean-up operation continued.
A hippopotamus was tranquilized walking through the streets of Tbilisi after escaping the zoo the night before.
Unconfirmed reports also surfaced on social networks claiming that riot police unnecessarily opened fire on animals. A petition was launched demanding the government investigate and find out in which cases special forces used weapons against animals without a reason.
Georgian Prime Minister Irakli Garibashvili advised Tbilisi residents to stay indoors until all the animals had been found or accounted for. In total, over 30 wild animals fled the zoo, among them a hippo, 7 bears, six lions, six tigers, jaguars, 13 wolves, and an alligator which was found floating loose near Tbilisi's Heroes' Square.
Наводнение в Тбилиси нанесло городу ущерб в 18 млн долларов http://t.co/8hmp8Q2NsX | https://t.co/pMc2UomwLVpic.twitter.com/PdH8WyPssa

— Space Invader (@forsage01) June 15, 2015
Meanwhile rescue workers were searching for people who might have been trapped in their houses due to the flooding, which has so far claimed the lives of at least 12 people, 3 of whom were found at the zoo.
The zoo's administration has asked that the escaped animals be spared, as the search for them continues.
"We beg, if somewhere you see an animal, don't kill it !!! Just call us !!!," the zoo posted on Facebook.
And several zoo animals died #Tbilisi#Tbilisifloodpic.twitter.com/FJ3K899ubo

— Emil Baghirov (@sakitoglu) June 14, 2015