MERS death toll reaches 16 among 150 confirmed S. Korea outbreak victims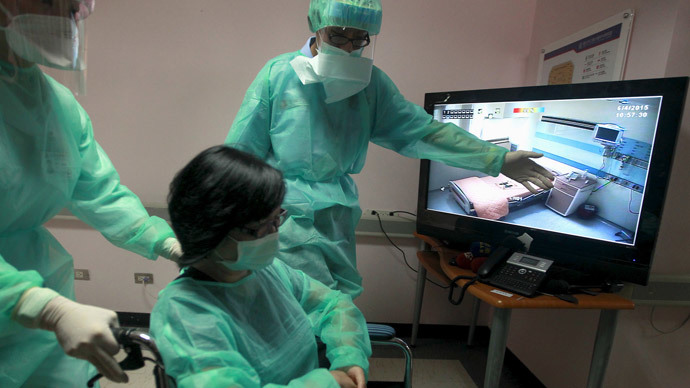 Two more patients with the MERS virus have died, South Korea's health ministry has announced. In addition, five new cases have been confirmed, bringing the official total to 150 patients.
The two latest fatalities, confirmed by the Ministry of Health and Welfare on Monday, bring the total number of MERS-related deaths to 16, Yonhap news agency reports.
READ MORE: WHO plans emergency meeting as S. Korea MERS cases reach 145
In one of the latest deaths, a 62-year-old man died in the city of Busan. He had contracted the decease after visiting the Samsung Medical Centre in Seoul, where more than 70 people are now being treated with the virus. He was diagnosed on June 7.
To curb the spread of the infection, Samsung hospital temporarily suspended most of its operations, after two doctors and three nurses were confirmed infected. In particular, it stopped admitting new patients and doing surgery not deemed as urgent, hospital president Song Jae-Hoon said.
"We offer our deep apology and express regret to all of our patients who were infected here and those placed under quarantine," he said.
The hospital has placed some 400 patients, families and medical staff under quarantine. As of Sunday, at least 4,856 people possibly exposed to the MERS virus were under observation nationwide.
The World Health Organisation (WHO) will be holding an emergency meeting on Tuesday to address the "large and complex" MERS outbreak, the biggest outside Saudi Arabia where it was first identified in humans in 2012. There is no vaccine or cure for the virus which has a fatality rate of around 35 percent.
All of South Korea's cases are believed to be linked to hospitals and have been traced back to a businessman who returned from the Middle East. So far all of the deaths have involved elderly people or patients suffering from other illnesses in addition to MERS.
You can share this story on social media: