​Israel cabinet approves bill to force-feed Palestinian prisoners on hunger strike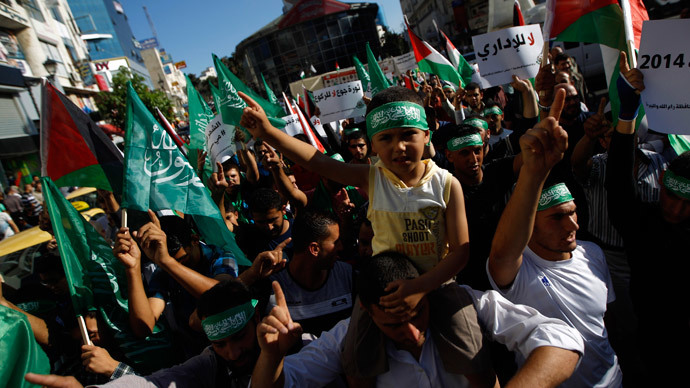 A law allowing Israeli authorities to force-feed Palestinians on hunger strike while they are behind bars has been approved by the cabinet. The controversial move has found no support from Israel's medical association.
Israel's cabinet has approved a draft legislation that introduces a practice which could end hunger strikes called by jailed Palestinians, Reuters reported on Sunday. Authorities have long feared the possibility that such strikes could end in death, which could, in turn, lead to protests in the occupied West Bank and East Jerusalem.
However, Israel's Medical Association opposes the bill and has urged local doctors not to participate in force-feedings if the law comes into force. The association considers the medically risky practice to be "a highly sensitive social issue" and a form of torture.
READ MORE: 2014 Gaza offensive was 'unfortunate yet lawful' – Israel ahead of UN probe results
Leonid Eidelman, chairman of the association, said he had given "doctors instructions to act solely according to the demands of ethics and not to force-feed prisoners on a hunger strike," the Times of Israel reported.
Eidelman added that "the doctor's association views the intention to legislate force-feeding very severely. Our objection was expressed to [representatives of] government ministries and the government's attorney general at every opportunity."
The legislation, which must still pass two votes in the parliament, was reintroduced by Internal Security Minister Gilad Erdan. It has reportedly been amended to require doctors to agree to conduct the force-feedings.
"Hunger strikes by imprisoned terrorists have become a weapon with which they are trying to threaten the State of Israel," Erdan wrote on Facebook. "The cabinet's decision today sends a clear message: we will not blink in the face of any threat."
According to Israel's Prison Service, of about 5,000 Palestinian prisoners, there are currently four refusing to eat. One of them is supposedly in critical condition after having been on a hunger strike for 36 days. Under current Israeli law, it is impossible to treatment a patient against his or her own will, but an ethics committee can get involved.
READ MORE: Missile killing of 4 Gaza boys not a crime, Israel rules
Qadoura Fares, chairman of the Palestinian Prisoners' Society, called the legislation racist and a violation of international law, according to Reuters.
Last year, the force-feeding bill was condemned by human rights campaigners from all over the world, as well as the entrenched Israeli practice of detaining Palestinians with no formal charge.
The Special Rapporteur on torture and other cruel, inhuman or degrading treatment or punishment, Juan Méndez then said that "It is not acceptable to force-feed or use threats of force-feeding or other physical or psychological coercion against individuals who have opted for the extreme recourse of a hunger strike to protest against their detention without charge and conditions of detention and treatment."
You can share this story on social media: