Delayed crew successfully, but belatedly returns to Earth from ISS (VIDEO)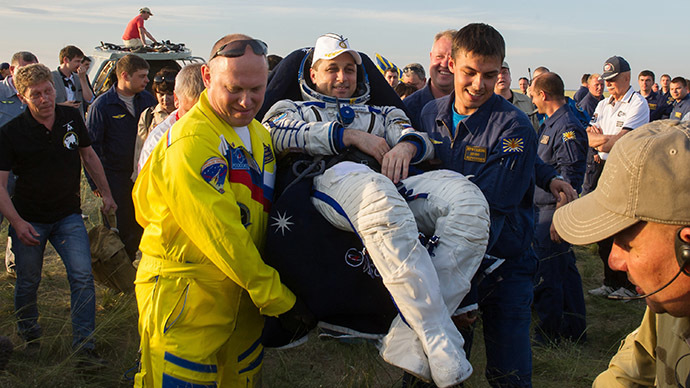 The ISS Expedition 43, which was delayed in orbit after the Progress spacecraft accident in April, has returned to Earth. The manned Soyuz TMA-15M spacecraft successfully landed in Kazakhstan on Thursday.
"The capsule touched down in the planned landing area, approximately 145 kilometers southeast of the city of Jezkazgan [in Kazakhstan]," the Moscow Region-based Mission Control Center stated, as cited by Tass news agency.
Search and rescue groups located the capsule, with the Russian cosmonaut Anton Shkaplerov, US astronaut Terry Virts and the European Space Agency's Samantha Cristoforetti picked up from the pod.
"The landing was rough and fast. We were spinning a bit for some reason, but the timing was perfect. Everything was done precisely to the required second," Shkaplerov told Rossiya 24.
Russia's space agency, Roscosmos, mentioned, "the crew members, who just returned to Earth, are feeling well."
Shkaplerov, Virts and Cristoforetti, who had been in orbit since late November 2014, were initially scheduled to return home in mid-May.
But Expedition 43 had to prolong their stay at the International Space Station (ISS) after the April 28 accident involving the Progress M-27M cargo spacecraft.
READ MORE: Russian Progress spacecraft 'impossible' to dock at ISS, could sink in ocean – Roscosmos
The Soyuz-2.1a carrier rocket took the spacecraft to a higher orbit than had originally planned, which made subsequent attempts to dock the Progress with the ISS impossible.
The accident occurred due to the "abnormal separation" of the Soyuz third stage and the Progress after an unaccounted design fault caused decompression of the rocket's fuel tanks, Roscosmos said.
Russian cosmonauts Gennady Padalka and Mikhail Korniyenko as well as the NASA astronaut Scott Kelly currently remained on board the ISS.
The next manned mission to blast off for the space station will be on July 23, Aleksandr Ivanov, the deputy head of Roscosmos, said.
"We are resuming a normal scheme of piloted flights after figuring out the cause of Progress mission failure," he explained.
.@AstroTerry, @AntonAstrey & @AstroSamantha will be checked by docs, depart to Karaganda then split up to US & Russia pic.twitter.com/kBwrYiFx4t

— Intl. Space Station (@Space_Station) June 11, 2015
Currently, all manned missions to the ISS are launched from the Baikonur Cosmodrome in Kazakhstan, using Soyuz spacecraft originally designed in the 1960s for the Soviet lunar program.
At least one Soyuz is docked to the ISS at all times, for use as an escape craft in the event of an emergency.
The Soyuz rocket is the most frequently used and most reliable space launch vehicle in the world to date.
Soyuz TMA-M, in service today, is the fourth generation of the spacecraft. A new and final version of the system is planned to enter service in 2016.