Polish parliament speaker, 3 ministers resign over taping scandal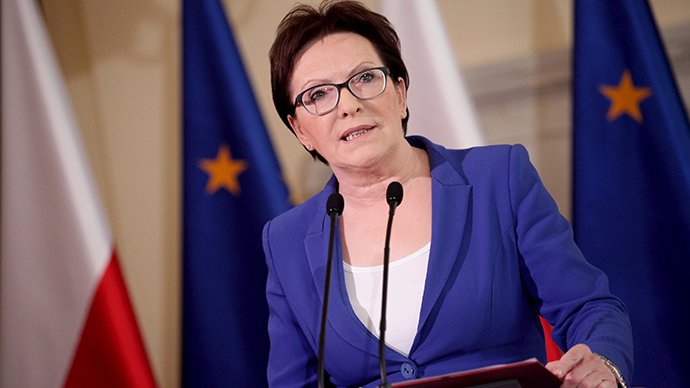 Three Polish ministers and the parliament speaker submitted their resignations in connection with a taping scandal, Poland's Prime Minister Ewa Kopacz announced on Wednesday. Secret recordings of government ministers' conversations were leaked this week.
The PM announced that the three ministers who decided to quit their positions are the health, treasury and sports ministers. Several other politicians, including the Speaker of the Parliament, Radoslaw Sikorski, as well as a chief adviser to the Prime Minister and a special services coordinator, also resigned.
READ MORE: No to Brussels, Yes to Kiev: New president sets course for more independent Poland
Prime Minister Kopacz also indicated that she would fire Prosecutor General Andrzej Seremet, AP reported. The investigation with the ministers involved was led by Seremet, and Kopacz said it was slow-going. She also mentioned she did not accept the prosecutor's report on why the classified files from the probe had been leaked to the public.
The three ministers were secretly taped during private restaurant meetings in Warsaw in 2013 and 2014. While the investigation is still continuing, the illegal wiretaps have been leaked onto publicly available platforms, including Facebook this week.
Having apologized to the voters for what they heard on the recordings, Kopacz said that she had talked to the politicians who appeared on the tapes and said that action needed to be taken that "could not wait." These politicians "showed responsibility for the state," having decided to quit their posts, the Polish Radio quoted Kopacz as saying.
Leaked tape has Polish FM comparing ties with US to giving oral sex http://t.co/a3AfWNurblpic.twitter.com/JpsehlL8AB

— RT (@RT_com) June 23, 2014
Polish businessman Zbigniew Stonoga published more than 2,500 pages of secret documents. He has been reportedly fighting a long-running battle with the authorities. The confidential reports from the investigation included top-secret information concerning the personal details of state security officers, as well as senior officials, including ministers and conversations in restaurants.
The leaked tapes reveal politicians making inappropriate jokes and indiscreet comments about colleagues and foreign leaders. The head of the prime minister's office Jacek Cichocki has called the publication "the biggest leak in history," Inside-Poland.com reported.
An election campaign is continuing in the country, with parliamentary elections to both the Senate and the Sejm (Poland's lower house) planned for October. Kopacz's Civic Platform party has seen a slump in popularity recently, with the Prime Minister saying she needs to restore voter trust.
You can share this story on social media: