Suicide car bomber attack near Luxor temple tourist site in Egypt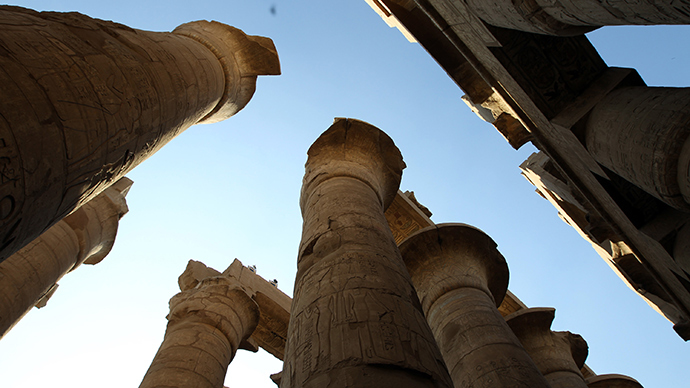 A suicide car bomber has blown himself up in a parking lot near Karnak Temple, a famous tourist site in Luxor, southern Egypt, officials said. Local news reported two dead and several injured.
Three armed men attempted to storm a barricade that leads to the temple area, officials said, adding that two of them left the car and opened fire at police who killed them. The third man in the vehicle, however, managed to detonate his bomb.
According to police officials, two of the assailants were killed, while the third was injured.
#EGYPT: Reports of injuries after suicde bomber attacks nr #Karnak Temple in Luxor http://t.co/C0MpgTar0Qpic.twitter.com/PxNOgBPzCb

— RT (@RT_com) June 10, 2015
There are still conflicting reports about the number of casualties and whether tourists are among them.
Reuters cited a health ministry spokesman who said four Egyptians were wounded in the attack. Bazaar shop owners and police were among the casualties, security officials added.
#Egypt: 2 terrorists killed, 2Egyptian policemen injured in suicide attack near Karnak Temple, Luxor, 1unidentified body in the hospital.

— Hasan Sari (@HasanSari7) June 10, 2015
A senior interior ministry security source told the Mena news agency that no tourists were injured in the attack. He added the assailants were attempting to blow up a tourist bus near the temple.
The Egyptian Masrawy news website cited security sources who said that dozens of wounded, including tourists, have been taken to hospital.
#Egypt|ian security forces defused 3 bombs in the surrounding area of Karnak Temple in Luxor. #Egypt#terrorism"

— Hasan Sari (@HasanSari7) June 10, 2015
Two people were killed and four injured in the suicide blast, according to Hossam Abdel Ghaffar, a spokesman for the Ministry of Health.
The Karnak Temple Complex, one of the largest ancient worship sites in the world, is believed to be the second most visited tourist venue in Egypt after the Gaza Pyramids.
This isn't the first attack near Egypt's historical site. A gunman on a speeding motorcycle opened fire near the Giza Pyramids, killing two officers last Wednesday.