WiFi can be used to count people with or without electronic gadgets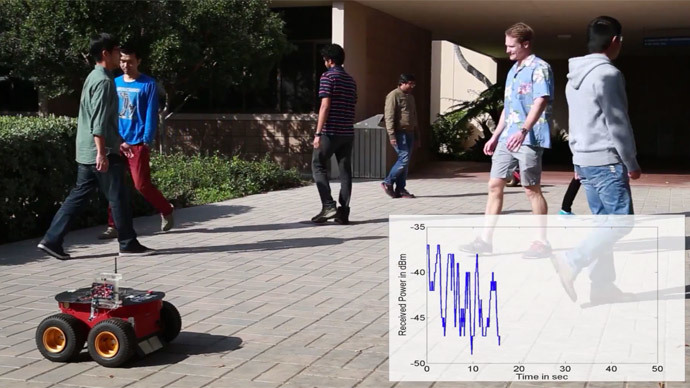 Scientists have discovered a way to count people both indoors and outdoors using WiFi signals and a mathematical algorithm to determine human density, even if the individual is not WiFi connected.
"Our approach can estimate the number of people walking in an area, based on only the received power measurements of a WiFi link," said Yasamin Mostofi, a professor of electrical and computer engineering at UC Santa Barbara, who led the study.
The mathematical calculations based on power measurement developed by the Mostofi lab rely on the changes of the received wireless signal between two operational WiFi cards in a given space. So far, Mostofi and his team have managed to count up to nine people both indoors and outdoors.
Their experiment was simple. They simply placed two WiFi cards at opposite ends of a target area, in a 7 by 10 meter space.
The human body crossing the line of the signal breaks a direct link between two WiFi transmissions, enabling the program to register their presence.
People also get registered even after they pass through the direct link between two WiFi signals by scattering or ricocheting that the signal, a phenomenon which researchers call "multi-path fading."
"By developing a probabilistic mathematical framework based on these two key phenomena, the researchers then proposed a way of estimating the number of people walking in the space," the lab's statement reads.
Researchers hope their findings will be applicable in a number of areas, including emergency situations, business planning, and energy efficiency.
The Mostofi's research group's discoveries are scheduled for publication in the Institute of Electrical and Electronics Engineers Journal.
The lab has also been using WiFi technology to allow robots to "see through solid walls." The project allows them to position objects behind a wall and potentially determine what the object is made of, and whether it's human, metal or wood.