​ISS shifts due to abnormal engine start – Roscosmos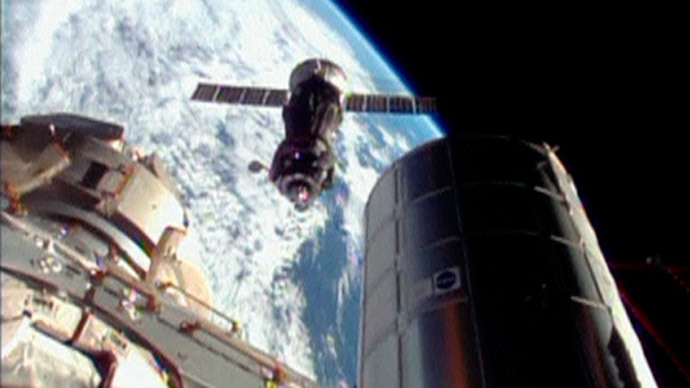 Thrusters of the Soyuz spacecraft docked at the International Space Station (ISS) misfired on Tuesday, Russian Federal Space Agency Roscosmos said. The incident slightly changed the station's position, but no threat to ISS or the crew was reported.
The incident happened during standard testing of the Soyuz's docking system, Roscosmos press service reported on Tuesday. The spacecraft was being tested ahead of its planned return to Earth on June 11.
Our ride back to Earth Thursday, #Soyuz TMA-15M. Light for this photo was provided by the moon and stars. pic.twitter.com/qONMHQ94Za

— Terry W. Virts (@AstroTerry) June 9, 2015
"Today, on June 9, 2015 at 18:32 MSK (15:32 GMT) during a scheduled testing of radio approach and docking system between the International Space Station and Soyuz spacecraft, Soyuz's engines started inadvertently, which led to a slight change of ISS position," Roscosmos said.
This video is very, VERY cool: Ride along with a Soyuz as it approaches ISS. http://t.co/jUTw0Iw6ggpic.twitter.com/FB0Cf5sT72

— Phil Plait (@BadAstronomer) June 9, 2015
All necessary measures to stabilize the station have been taken, the Agency said, adding that there is "no threat to ISS crew, the station itself or the scheduled return of the Soyuz spacecraft to Earth." Specialists are now working on determining the cause of the incident.
READ MORE: NASA releases mesmerizing VIDEO of Soyuz docking ISS
The Soyuz spacecraft is expected to land in Kazakhstan this week, bringing back to Earth three current ISS crew members – Russian Anton Shkaplerov, ESA astronaut Samantha Cristoforetti and NASA's Terry Virts.
Yesterday @AstroTerry, @AntonAstrey and I spent some quality time in the #Soyuz getting ready for landing! #Futura42pic.twitter.com/8hw1kZLdMB

— Sam Cristoforetti (@AstroSamantha) June 9, 2015
The crew were expected to return from space in May, but had to spend some extra weeks on ISS after Progress spacecraft mission failure in April. Three more astronauts – two Russians and one American – are currently working on ISS.
READ MORE: ISS crew tells RT station well stocked despite Progress re-supply failure
On Tuesday, Roscosmos announced that six more spacecraft will be launched to the ISS by end of this year. According to a statement by the agency, launches of Progress and Soyuz cargo and piloted ships have been approved by the state commission. The first of the rescheduled launches is planned for July 3.
You can share this story on social media: