Estonia rare metals plant catches fire, threat of toxic smoke as roof collapses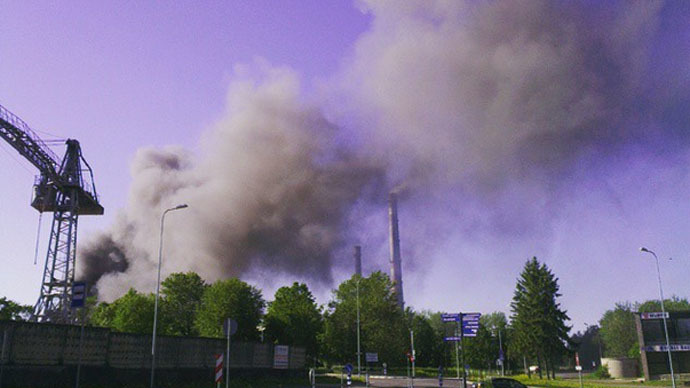 A fire at an Estonian plant producing rare metals has led to a roof collapse in one of its industrial buildings. Local residents are being advised to stay indoors due to the threat of chemical contamination.
The Estonian town of Sillamäe was under threat of a chemical disaster on Tuesday afternoon after one of the buildings of a rare metals plant used as a warehouse for chemicals caught fire from polyethlene film. It is not clear whether people were inside a building whose roof collapsed, Tass reported.
Paranoid? Photo 1: Oil Depot fire in Kiev Photo 2: Rare metals factory fire in Sillamäe, NE Estonia. Both right now. pic.twitter.com/qtPPMRP3zD

— Eerik-Niiles Kross (@EerikNKross) June 9, 2015
"Due to the roof collapse, the rescuers can't get inside the building and are putting out the fire from the outside," said Helen Tammets, press secretary of a regional rescue center, Tass reported. There has been no information on any injured so far, she added.
"Rescue teams from the whole region have been sent to battle the fire, including a special vehicle from Kiviõli, that is designed to liquidate chemical pollution," Tammets said.
Residents of Sillamäe, located in the north of Estonia, on the coast of the Gulf of Finland, have been asked to stay indoors, with closed windows and doors, as toxic smoke has spread in the town from its industrial zone.
"I believe that the problem resided in the fact that the major repair work was done in building 51, including welding. I've heard that by the end of the working day something caught fire, and the blaze spread. I've learned from employees of Silmet, that people weren't hurt," a former owner of the Silmet plant, Tiit Vähi, told the Delfi web portal.
READ MORE: Ukraine, EU 'may face acid rain' amid furious blaze at fuel storage depot near Kiev (VIDEO)
Estonian TV reported that the fire, classified by them as "extreme," which started late afternoon around 3:30 p.m. local time (12:30 p.m. GMT) has not been brought under control by the evening. Local firefighters are waiting for special equipment from the cities of Tallinn and Tartu. Specialists from the Health Department also are to arrive at the scene in order to collect samples of air, according to RIA-Novosti.
Three rescuers became affected by gas poisoning due to the dangerous agents in the smoke, but two of them returned to work after a medical examination.
Estonian researchers say there was no danger of the surrounding area becoming contaminated with radioactive material. This followed rumors that uranium enrichment was undertaken at the facility during the Soviet period, which had led to the soil becoming contaminated, the ERR news portal reported.
According to the data, provided by the management of the plant, it produces rare metals such as tantalum and columbium.
Molycorp Silmet, which is a subsidiary of the US company Molycorp, could go into bankruptcy in the near future as it has racked up debts estimated to be around $1.7 billion. However, the Estonian plant says it is not in any difficulty as it is a "self-consistent and self-financed" enterprise.
You can share this story on social media: