NGOs, Palestinians outraged after UN chief leaves Israel off list of children's rights violators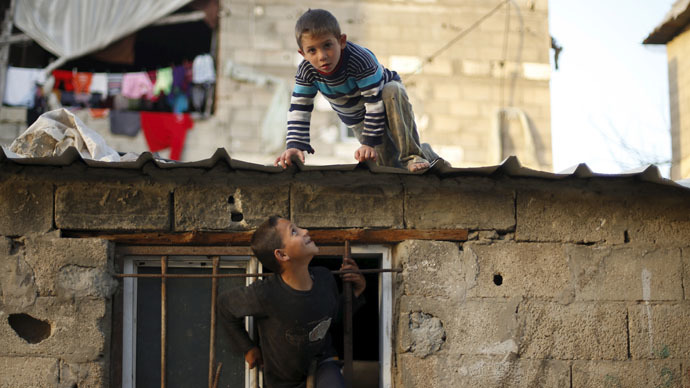 ​Despite mounting pressure from the international community, as well as his colleagues, UN Secretary-General Ban Ki-moon chose not to include Israel on the List of Shame – a document outlining groups and states who violate children's rights in conflict.
Rights groups have been urging Ban to change last year's list and add Israel after last summer's war in Gaza claimed more than 500 children's lives. Those voices predicted there would be pressure from Israel to be omitted from the list, and appealed to Ban to ignore it, and in so doing "strengthen child protection," as suggested by crisis advocacy director at Human Rights Watch, Philippe Bolopion last week.
Political pressure seems to have prevailed. We expected better from a Secretary-General who promised to put 'human rights up front' 3/3

— Philippe Bolopion (@Bolopion) June 8, 2015
Ban's own Special Representative for Children and Armed Conflict, Leila Zerrougui, had stood by accusations against the Jewish state of "grave crimes against children" made in a UN document obtained by Reuters last Friday. The draft 22-page country report by several UN agencies was sent to Zerrougui for review, just ahead of her own draft version of the 'List of Shame' she had sent to Ban.
READ MORE: Peace between Israel, Palestine could bring $173bn in economic benefits – study
The militant group Hamas, which traded accusations of gross rights violations with Israel, was also recommended by Zerrougui for the list, and not included by the UN leader.
Another, late-April UN report pointed to Israel for seven attacks on UN-run schools in Gaza, becoming the next piece of corroborated evidence.
#BREAKING: "Number of schools damaged or destroyed in OPT was the highest recorded number of all situations in 2014" pic.twitter.com/nbaIhBKx5J

— Brad Parker (@baparkr) June 8, 2015
On August 5, 2014, a total of 129 organizations and prominent individuals called on Ban to either do something or resign in light of his "biased statements… failure to act, and the inappropriate justification of Israel's violations of international humanitarian law, which amount to war crimes."
But while the Secretary-General earlier promised to "spare no effort to ensure that such incidents will never be repeated," it was much to people's dismay when it turned out he had left Israel off the list of those who harm children in conflict.
The resulting document was circulated by the Security Council on Monday.
The UN chief restricted himself to mild criticism leveled at Israel, saying he was "deeply alarmed" at the "grave violations suffered by children as a result of Israeli military operations in 2014."
#UNSG urges #Israel to engage in dialogue w/@childreninwar to end grave violations against kids. Why not just list? pic.twitter.com/vfUrZualNo

— Brad Parker (@baparkr) June 8, 2015
UN sources familiar with the matter told Reuters his decision to ignore Zerrougui's recommendations was odd.
Bolopion, of Human Rights Watch, reacted with the following statement: "Ban's disappointing decision to override the advice of his special representative by removing Israel and Hamas is a blow to UN efforts to better protect children in armed conflict.
"Facts and consistency dictated that both be included on the list, but political pressure seems to have prevailed," he was quoted by Reuters as saying.
Decision is a blow to UN efforts to protect children in armed conflict. Facts dictated that both Hamas and IDF be included on the list 2/3

— Philippe Bolopion (@Bolopion) June 8, 2015
Bolopion's comments follow last week's report by Foreign Policy, which cited great pressure by the Obama administration to exclude Israel from the list of children's rights violators. One unnamed UN official was quoted by the magazine as saying that the cabinet did not wish to promote the view that "the White House is anti-Israel."
READ MORE: Israel hits Gaza with airstrikes, closes crossings after more rockets fired
The Israelis praised Ban's decision, and responded, with through their UN ambassador, Ron Prosor, that Israel was happy it would not be listed alongside Al Qaeda or the Islamic State (formerly ISIS/ISIL).
"Israel acted to defend its residents from attacks by a murderous terrorist group, which has no qualms about placing Palestinian civilians, including children, in the line of fire," Prosor said.
His Palestinian counterpart, Riyad Mansour, reacted to Monday's report by saying: "It is without doubt that Israel… flagrantly, systematically and grossly commits human rights violations against Palestinian children constituting grave violations that qualify it for such a listing."
Hamas spokesman Fawzi Barhoum was disappointed with Israel being left off the list of shame, calling it a "state of terror."
Ban, for his part, criticized the Palestinian group for endangering children with rocket fire in Israel and Gaza.
#UNSG CAAC report: #Israel forces killed 557 kids in OPT during 2014, third highest in 2014 behind Afghanistan & Iraq pic.twitter.com/d5xC2GYHgl

— Brad Parker (@baparkr) June 8, 2015
The Palestinian death toll in the last year's 50-day conflict between Israel and the pro-Palestinian opposition in the Gaza Strip surpassed 2,100.
According to this year's report on children, the Israel-Gaza conflict takes third place in deaths, with 557 children killed in 2014; this is just behind Afghanistan, with 710 child deaths, and Iraq, which became the most lethal country for children during last year, with 679 children killed. The country that took fourth place was Syria, with 368 fatalities.