​Russian combat android will be able to run by the end of year, developer says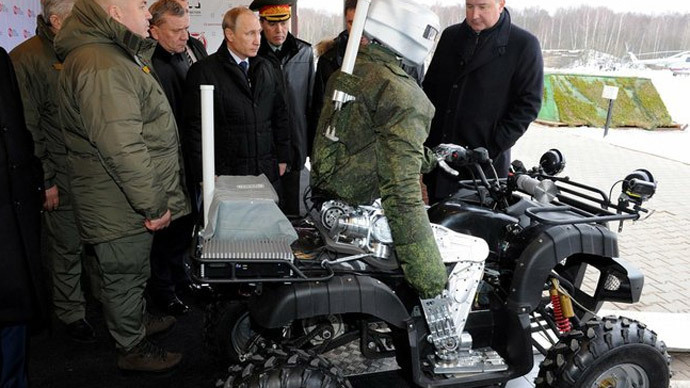 A humanoid fighting robot will know how to run in a matter of months, says head of the company working on the android. The company is also developing brain-computer interface technology and brand new equipment for the "soldier of the future."
"A combat robot-android, that resembles a human in appearance, by the end of the year will be able to run, cross a barrier line and perform other actions, according to our plans," Andrey Grigoryev, director-general of the Advanced Research Foundation (ARF), told RIA-Novosti on Monday.
The robot is destined to operate in "most dangerous conditions" and be remotely controlled. However, it is not designed to "run around with a rifle," as there are tracked and wheeled platforms more suitable for that.
READ MORE: 'Russia would attack NATO only in mad person's dream' – Putin
President Vladimir Putin, who saw the robot in action this January, said it resembled a "scene from a science-fiction film". He also enjoyed the new brain-computer interface technology.
The development of the "brain-computer" interface that allows the human brain to directly control over technology is complete and now is being prepared to be passed to governmental agencies. The interface is based on the application of the electric activity of the brain, detected by the means of electroencephalography.
"The know-how that is in its foundation has already interested our federal executive authorities. There have been relevant questions for us to pass the corresponding intellectual property and the result in accordance with our law," Grigoryev said.
The head of ARF also revealed that the development of the equipment for a "soldier of the future" had kicked off with a brainstorming session – the scientists are studying all existing suggestions. According to Grigoryev, coming up with the new type of equipment, dubbed "Ratnik-2," may take from 10 to 15 years.
READ MORE: Super Samurai: Robot beats Japanese master swordsman (VIDEO)
The "Ratnik" equipment includes a modern shooting armament, effective protection kits, reconnaissance and communication assets – all in all, about ten various subsystems, all aimed at protection of a soldier on the battle field.
The Advanced Research Foundation was created in year 2012 as an analogue of the American Defense Advanced Research Projects Agency (DARPA), which develops innovative projects in technology and science for the US Department of Defense. For the time being, ARF has 53 projects approved, and its laboratories are already working on 31 of them.
You can share this story on social media: