Islamist groups urge Muslim Danes to boycott election, saying democracy 'incompatible' with Islam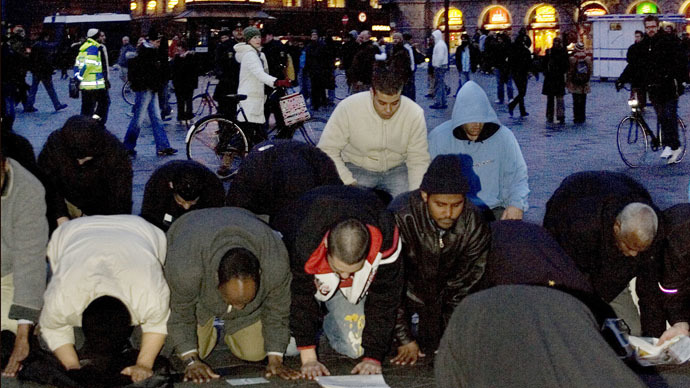 Two radical Islamic groups in Denmark have issued statements calling for Danish Muslims not to vote in the June 18 general election.
Islamic organization Hizb ut Tahrir, which has campaigned since 1953 for a global Islamic caliphate to be established, has called for Danish Muslims to boycott the coming election in a protest against democracy, The Local reports.
"We are committed to being active participants in our society, but it has to be on Islam's terms, without compromising our own principles and values. Democracy is fundamentally incompatible with Islam, and it is a sinking ship," the organization said in a statement.
Unlike ISIS and Al-Qaeda, Hizb ut-Tahrir says it rejects the use of violence.
The Grimshoj mosque, known for its radical views, has openly declared its support for ISIS. It echoed Hizb ut-Tahrir, issuing a similar statement in an interview with the Danish regional channel TV2 Østjylland.
"People should stay clear of the voting booths. We have concluded that only Allah can pass laws, as he says himself in the Koran that this is so," a representative of the mosque said.
READ MORE: Danish Conservatives campaign for elimination of 'Nazi Islamism'
Politicians have condemned the statements and Martin Geersten from the center-right Venstre party has called for Hizb ut-Tahrir to be banned and kicked out of Denmark.
"[Hizb ut-Tahrir should] leave Denmark and instead try to eke out an existence in the ISIS-controlled areas in Syria and the Levant, which are apparently the conditions they hold up as an ideal," he said in a statement, The Local reported.
A majority of MPs in the Danish parliament, led by Justice Minister Mette Frederiksenm, is urging the public prosecutor's office to ban Hizb ut-Tahrir. The group is already banned in Germany, Russia, China, Egypt, Turkey and Saudi Arabia.
A previous, 2008 attempt to outlaw Hizb ut-Tahrir in Denmark failed when a public prosecutor ruled that there were no legal grounds to ban the group.
READ MORE: Renouncing Islam: Danish anti-immigration party suggest 'grotesque' program
Separately, the right-wing party Dansk Folkeparti (DF) blamed immigrants Friday for not doing enough to integrate into Danish society.
"The immigrants are to blame," DF deputy leader Søren Espersen told DR Nyheder radio. "Those parents who don't want to learn Danish, even though they've been here for 20-30 years and have children who are bilingual – what is that? There is a lack of will among people who come here to get going themselves. The Danish emigrants who went to America didn't wait for a whole bunch of people to teach them about everything and integrate them. They made an effort themselves and that is what we lack today."
You can share this story on social media: