World Muay Thai boxing champion from Germany joins ISIS in Syria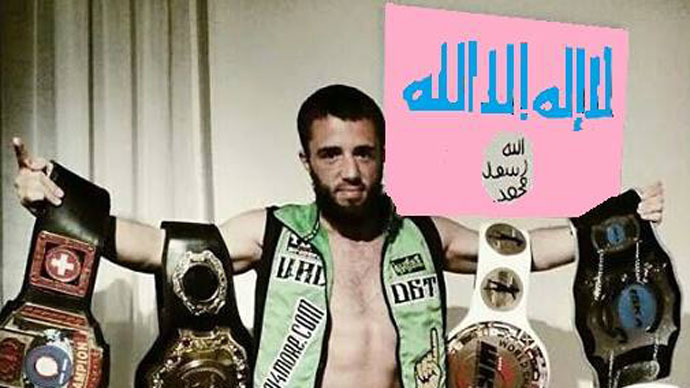 A 29-year-old German kickboxer and two-time Muay Thai world champion of Albanian origin, Valdet Gashi, has joined ISIS and left for Syria to fight for the Islamists, Swiss media reports.
According to the Swiss SRF (Schweizer Radio und Fernsehen) program Rundschau, Gashi joined ISIS in early January 2015 but he had been concealing his whereabouts for several months, so that his family believed he was in Thailand.
To all my Family and friends: I am ok.... will be back soon.... i am working on a new Project and i had no Internet all the time. more Infos soonso dont worry ;)Posted by Valdet Gashi on 4 Февраль 2015 г.
SRF journalists managed to reach him via telephone in mid-May. During a 90-minute telephone conversation, Gashi reportedly told journalists that he had a deep and profound understanding of the ISIS ideology and had gotten used to ISIS's ideas by now.
"I want to do something good and to die while doing it. That is what would make me happy," he said. He also asked his friends and family not to denounce his decision as "they did not know the whole story," he Switzerland's 20 Minuten news.
>>> WICHTIG - IMPORTANT <<<="" p="">
In Syria, Gashi is taking part in the establishment of a Caliphate, the SRF news network reports. In particular, he patrols an area along a stretch of the Euphrates tracking down smugglers and spies. He operates primarily near the city of Membij, close to the Turkish border.
Some muay thai fans responded to the news about Valdet Gashi joining ISIS by a proposal to deprive him of all his sport titles.
Valdet Gashi ist ein IS-Kämpfer und die Reaktion einiger Kampfsportfans ist: "Man sollte ihm die Titel abnehmen." ....

— Dorian (@DorianGnP) 4 июня 2015
However, it is reported that he had not immediately left for Syria after joining ISIS. Initially, he came to the Swiss town of Winterthur, where he established a sports school named MMA (Mixed Martial Arts) Sunna.
There he had trained three young men at the ages from 16 to 20, all of whom along with the sister of the one of the trainees also joined ISIS and left for Syria. All three trainees attended the same mosque in Winterthur, 20 Minuten reported.
READ MORE: UN-cleared refugees to Norway revealed as ISIS militants – report
One of the trainees, 20-year-old Hajan, also known as Ibn Muhamad al-Kurdi, has reportedly died in Syria fighting for ISIS. Gashi mourned the death of his "Kurdish friend'' on his Facebook page and claimed they would soon meet again in "Jannah-al-firdaus," the so-called Muslim seventh sky.
My kurdish muslim brother....R.I.P. :(May Allah bring us together in jannah al-firdaus and accept from you. Amin#muslim #jannah #inshaallah #kurdiPosted by Valdet Gashi on 22 Март 2015 г.
According to Atef Shanoun, the president of the Winterthur mosque association, that means Gashi is now seeking a martyr's death through jihad.
READ MORE: Interpol, security services in 6 countries look for Russian student allegedly kidnapped by ISIS
Gashi's family have criticized his decision to join ISIS. Enver Gashi, Valdet's father, told Rundschau that "Valdet's place is with us – with his children, his wife and his parents."
"I want him to stop this nonsense and I hope he'll come back to us one day, because his place is here and nowhere else."
According to the SRF, Valdet Gashi has a wife and two small daughters, one of which was born just few months before he left for Syria.
You can share this story on social media: