​ISIS bans pigeon breeding as seeing birds' genitals 'offends Islam' - report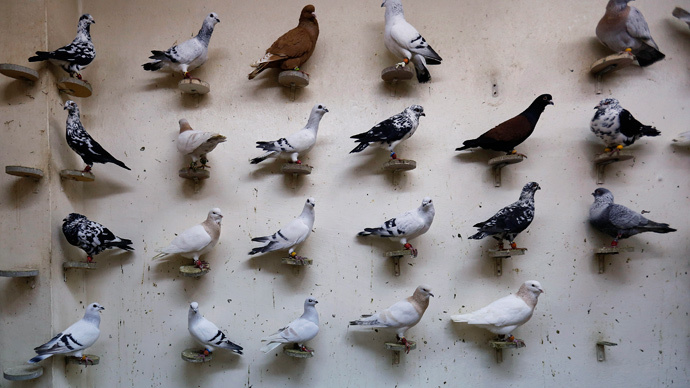 Senior clerics fighting for the Islamic State in Syria and Iraq have issued an instruction banning pigeon-breeding claiming that "the sight of the birds' genitals as they fly overhead is offensive to Islam," The Daily Mail reports.
The Islamists operating in the ISIS "Euphrates province" that stretches from Anbar in Iraq to Dier ez Zour in Syria published the instruction by the senior administrators of the province, telling pigeon breeders they had one week to stop the practice, or face prison, a fine and public flogging.
"All those who keep pigeons above the roofs of their houses must stop doing this entirely within a week of the date of the issuing of this statement. Whosoever violates it will be subject to consequences of reprimand including a financial fine, imprisonment and flogging," the document states, as quoted by the Daily Mail.
How do they invent such things? Or does Quran or Hadiths have scriptures regarding Pigeons too? https://t.co/lJRU5Dhp7G#ISIS

— Hitarth تفخر باقان (@Hitarth1987) 3 июня 2015
ISIS also demands that locals report anybody who continues the practice of pigeon breeding to the ISIS religious police, Hisbah. According to the order, those violating the ban for the first time will be flogged and fined a substantial sum of money, while repeat offenders will be jailed in an ISIS prison.
READ MORE: Fight root causes of terrorism, not symptoms – Lavrov to Bloomberg
It was widely assumed earlier, when the rumors about the ISIS pigeon ban began to circulate, that the reason for such a measure was the use of pigeons for smuggling anti-ISIS messages or cigarettes.
However, the document clearly states that the ban "is intended to put a stop to the greater criminal act of harming one's Muslim and Muslim women neighbors, revealing the [pigeon's] genitals and wasting time," the Daily Mail quoted it as saying.
"Pigeons' genitals can distract people from worship" How perverted are these ISIS guys? Next up, Ant genitals. http://t.co/QeTM2KbQi9

— Ram Prasad (@ramprasad_c) 3 июня 2015
This ban is not the first time ISIS has targeted pigeon breeding.
In January, ISIS militants arrested 15 boys and executed at least three of them in Iraq's eastern Diyala region as the boys "were wasting time rearing their birds instead of praying to Allah," the Daily Mail reports.
READ MORE: ISIS jihadists reportedly kidnap up to 500 children in Iraq
According to the Daily Mail, the militants also searched every house for the pigeons themselves, then took away all the birds they found and burned them.
Pigeon breeding is a popular hobby in the Middle East but the Islamists frown upon it as they believe it to be a distraction from worshipping Allah.
You can share this story on social media: