'I take full responsibility before Allah': Qatari daily editor resigns after Kama Sutra pic publication
Published time: 1 Jun, 2015 20:36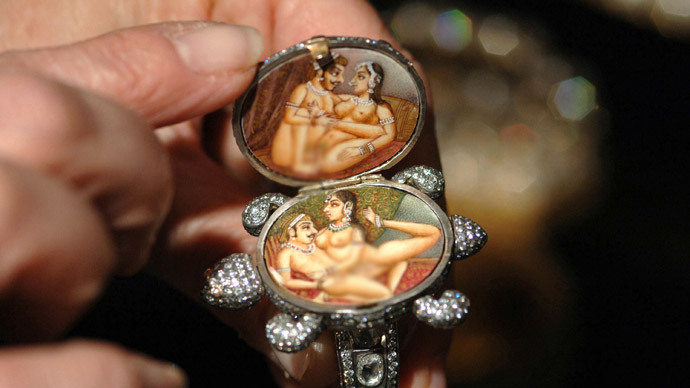 Jaber Al Harmi, the editor of one Qatar's leading newspapers, Al-Sharq, has resigned after a photo editor illustrated a story about the harm of henna, with a picture of henna tattoos containing images from the Indian sex manual, the Kama Sutra.
"All the apologies are certainly not enough regarding the gross mistake that occurred by publishing a morally inappropriate image in a supplement with Al Sharq newspaper," Al Harmi wrote in an open letter published on the website of the government-owned newspaper.
Qatari Al Sharq newspaper editor resigned after it published this image in a henna story by mistake pic.twitter.com/yS3vEpuFix

— سلطان سعود القاسمي (@SultanAlQassemi) June 1, 2015
The picture – which Al Harmi said "crossed the red line" – was an archive photo of a woman's palms decorated with tattoos made from henna, a natural dye. While the images in the health supplement appear innocuous at first glance, closer examination reveals them to be sexual illustrations for the Kama Sutra, written nearly 2,000 years ago.
"I take full responsibility before Allah, my country Qatar, and the people who trusted me with the words and pictures we publish. I also assume my full responsibilities before the board of administration who entrusted to me the task of leading the newspaper team. God is my witness that what happened is a completely unintentional mistake."
Al Harmi said the photo editor responsible for the gaffe had already been fired, while his superior was also fined and given a warning. It is unclear if Al Harmi's own resignation has been accepted.
"I do not seek to defend myself, but everybody knows that mistakes do occur, especially in the world of the media that demands speed, accuracy and credibility on 82 pages every single day. The Monday edition when the mistake occurred in fact had 112 pages," wrote Al Harmi.
Qatar adheres to Sharia law, and publishing pornographic images is forbidden, while internet sites containing them are censored with one of the most intrusive blocking systems in the world.