'Self-appointed advocate of new Ukraine': Soros emails leaked by anti-Kiev hackers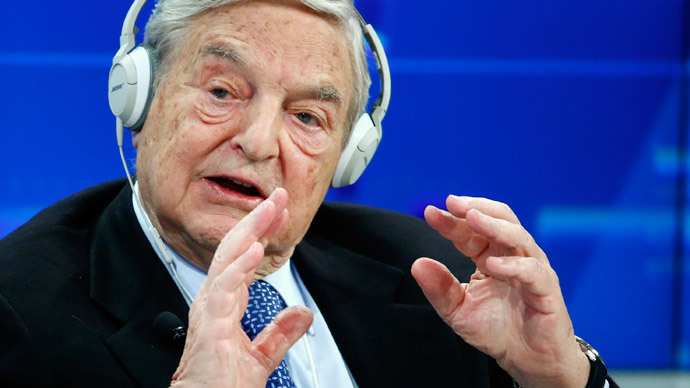 George Soros advocates EU financial aid and military assistance to Ukraine to restore Kiev's fighting capacity without violating the Minsk peace deal, claim anti-Kiev hackers citing leaked emails between the billionaire and Ukraine's president.
The hacking group CyberBerkut claims it has penetrated Ukraine's presidential administration website and obtained correspondence between Soros and Ukraine's President Petro Poroshenko.
The hacktivists have published three files online, which include a draft of "A short and medium term comprehensive strategy for the new Ukraine" by Soros (dated March 12, 2015); an undated paper on military assistance to Kiev; and the billionaire's letter to Poroshenko and Ukraine's Prime Minister Arseny Yatsenyuk, dated December 23, 2014.
According to the leaked documents, Soros supports Barack Obama's stance on Ukraine, but believes that the US should do even more.
He is confident that the US should provide Ukraine with lethal military assistance, "with same level of sophistication in defense weapons to match the level of opposing force."
"In poker terms, the US will 'meet, but not raise," the 84-year-old businessman explained, supposedly signing one of the letters as "a self-appointed advocate of the new Ukraine."
READ MORE: George Soros makes hush-hush trip to Kiev
The Western backers want Kiev to "restore the fighting capacity of Ukraine without violating the Minsk agreement," Soros wrote.
Retired US general Wesley Clark, who commanded the NATO bombing of Yugoslavia, and Polish ex-general, Waldemar Skrzypczak, will be among those advising Poroshenko on how to fulfil this task, he added.
In mid-February, after a year of fighting, Kiev and rebels from the self-proclaimed People's Republics of Donetsk and Lugansk signed a peace deal calling for a ceasefire, heavy weapons withdrawal, and prisoner exchanges between the sides.
Among other things, the leaked documents claim that the Ukrainian authorities were also asked to "restore some semblance of currency stability and functioning banking system" and "maintain unity among the various branches of government" in order to receive assistance from foreign allies.
Soros believes that it's up to the EU to support Kiev with financial aid, stressing that "Europe must reach a new framework agreement that will allow the European Commission to allocate up to $1 billion annually to Ukraine."
As for the current state of economy, the billionaire wrote that former Chilean finance minister, Andres Velasco, after visiting Ukraine on his request, returned with "a dire view of financial situation."
"The new Ukraine is literally on the verge of collapse" due to the national bank's lack of hard currency reserves, Soros warned Poroshenko.
The correspondence shows that the billionaire has been in constant touch with the authorities in Kiev and consulting them.
Soros has been involved in Ukraine since 1989, when he founded the Ukrainian International Renaissance Foundation (IRF) that provided more than $100 million to Ukrainian NGOs two years before the fall of the Soviet Union.
The billionaire is connected to several non-governmental organizations in Ukraine that advocate closer ties to the EU and aided the EuroMaidan movement that toppled Viktor Yanukovich's government last February.
In March, he criticized the EU for paying too much attention to Greece's economic problems and promised to invest $1 billion of his own money in Ukraine.
READ MORE: George Soros ready to invest $1bn in Ukraine
Soros is the 30th richest person in the world, according to Forbes' ranking, and had a personal fortune of $19 billion as of March 2013.
You can share this story on social media: