Le Pen's anti-immigration stance unchanged after meeting top Sunni cleric in Egypt
Published time: 1 Jun, 2015 12:57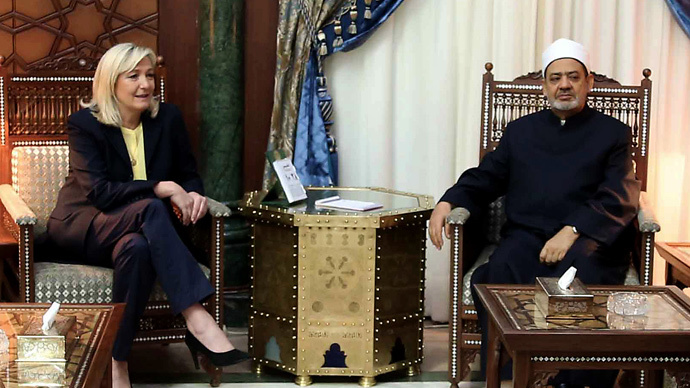 The leader of France's right-wing National Front party said her recent visit to Egypt did not soften her views towards Arab and Muslim immigration to France. Marine Le Pen was in Cairo to meet with the nation's religious and political leaders.
The National Front leader arrived in Egypt last week for a meeting with the Grand Imam of Al Azhar (Sunni Islam's highest authority), the pope of the Egyptian Coptic Church, and Prime Minister Ibrahim Mehleb.
.@MLP_officiel Théodore II offre une croix copte à Marine Le Pen à l'issue de leur entretien au Caire. pic.twitter.com/op7NtALRBv

— Aymeric Chauprade (@a_chauprade) May 30, 2015
The talks were conducted at Le Pen's request"to discuss matters related to erroneous ideas and concepts about Islam and extremist ideologies and racism that some Muslims in Europe are suffering from,"Grand Imam Ahmed al-Tayeb said in a statement.
Although Le Pen stated after the talks that she agreed with Mehleb and the grand imam on the threat of Islamic extremism in Europe, she said she would not be reviewing her position on immigration from Muslim countries.
"No, my feelings have not changed at all regarding illegal immigration," she told Reuters.
"We can't just welcome [immigrants] in France – the only solution is that we protect them in their country and for them to continue to live in their country," Le Pen added.
She also stated that regional partners are key to curbing immigration to Europe, but that turmoil in the Middle East and North Africa – and the West's response to it – has worsened the immigration situation in France.
"Egypt, for us, is the castle that will protect us" from immigration to France, Le Pen said.
READ MORE: 'We must resist corporations': Le Pen targets troubled TTIP deal in new campaign
During the talks, Tayeb questioned the National Front's "hostile opinions towards Islam and Muslims."
Although Tayeb said Le Pen "recognized the need to not confuse Islam with the violent acts committed" in its name, he added the party's "opinions must be reviewed and corrected."
Since becoming leader of the National Front, Le Pen – who took over from her father's leadership – has aimed to rid the party of its anti-Semitic and racist image.
Instead, Le Pen has attempted to paint the party as an anti-immigrant, Euroskeptic organization. She advocates the return of the franc, and supports policies sheltering France from globalization.
According to a January opinion poll conducted by pollster CSA for RTL radio, Le Pen would collect 29 to 33 percent of the vote in the first round of the 2017 presidential election, outpacing current President Francois Hollande.
However, she is not expected to earn enough votes to triumph in the second-round vote. France operates a run-off voting system, to ensure that the elected president always obtains a majority.