Scuffles in Melbourne as anti-Islamic protesters & anti-racism activists clash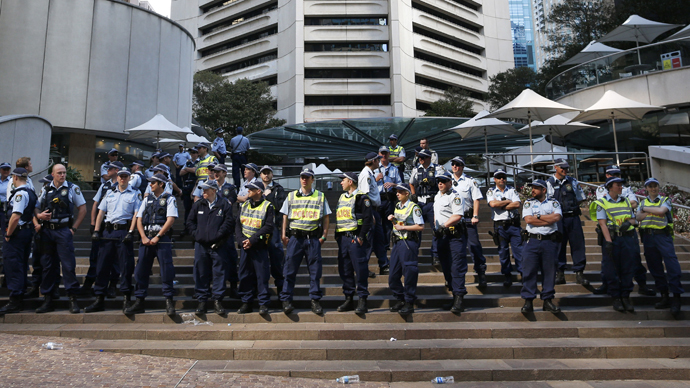 Clashes have broken out in Melbourne between anti-Islam protesters and anti-racism activists, as police battled to keep them apart. Verbal insults and punches were traded, while parts of the city were closed off.
Local police said no serious injuries were reported, as more than 100 officers were deployed. A Reclaim Australia splinter group, the United Patriots Front (UPF), planned to march towards Richmond Town Hall. However, they were met by some 300 protesters from a counter-rally by the Campaign Against Racism in the Melbourne suburb, who were chanting, "Muslims are welcome, racists are not."
Police did their best to try and keep the two groups from causing trouble, as their members traded insults, while there were also some minor scuffles.
UPF rally organizer Shermon Burgess told supporters that the group was protesting against radical Islam, though he denied that he was racist. "I cannot even have my point of view without being labeled a bigot or a racist," he said.
Meanwhile, a spokesman for the Uniting Against Islamophobia group, Stephan Jolly, said that they will attend a rally on July 18, which is the same day that Reclaim Australia will hold a rally.
Fascists will always lose in Melbourne! #auspol#NoRoomForRacismpic.twitter.com/UySRJhIedh

— Kieran Bennett (@KieranBennett) May 31, 2015
Victoria Police said they were at the demonstrations to maintain public safety.
"Victoria Police respects the right of the community to express their views peacefully and lawfully, but will not tolerate those who break the law," a statement said, according to AAP.
A police spokeswoman later said while there were no arrests at the protest, a man will be charged on summons after he was allegedly discovered carrying a knife.
READ MORE:Anti-racism vs anti-Muslim: Clashes as hundreds rally across Australia (PHOTOS)
In April, the two groups clashed in the same city as the Reclaim Australia group protested against Sharia law and Islamization, with some of the worst violence taking place in Federation Square.
A spokesman for the Victoria state ambulance service said that four people were being treated for minor injuries, while police spokeswoman Belinda Betty said two men and a woman were arrested following the violence. More than 100 police were deployed with almost a dozen mounted police also helping to keep the situation under control.