Thousands of Muslims demand reopening Hagia Sophia as mosque (VIDEO)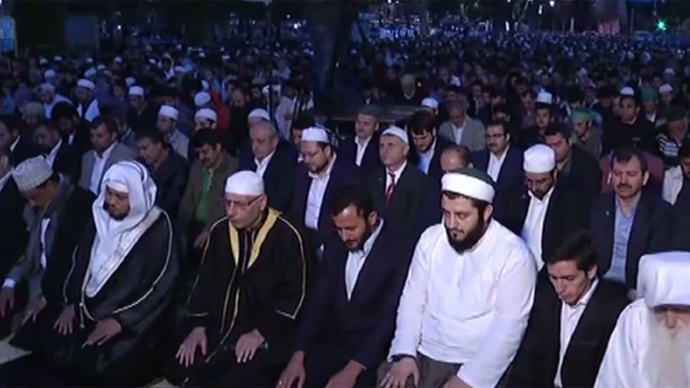 Thousands of people have performed a morning prayer in front of Istanbul's iconic Hagia Sophia museum on the 562nd anniversary of the Ottoman conquest of Constantinople, demanding it be turned back into a mosque.
A large group of devoted Muslims gathered in front of the Hagia Sophia, or Aya Sofya (in Turkish), a former historic Byzantine church that became a mosque after the conquest of Istanbul, early on Sunday morning, to pray and to listen to the Quran.
While commemorating the 562nd anniversary of the conquest, Muslims from all over Istanbul and Turkey demanded the UNESCO World Heritage site be turned back into a mosque according to the organizers, the Anatolian Youth Association (AGD). Among the organization's slogans were: "Chains to be broken, Aya Sofya to be opened" and "Come with your prayer rug."
Hundreds of people in #Istanbul demand the return of #HagiaSophia back into a mosque, instead of being open 4 public. pic.twitter.com/JFTkfqdPoq

— FelixWeiß (@eurospektive) May 27, 2015
"You demonstrated an important stance by coming here from the different parts of Turkey to break the chains of Aya Sofya," AGD head Salih Turhan said, speaking to the crowd.
Originally an Orthodox patriarchal basilica, founded in 360, it functioned as the Greek Patriarchal cathedral, but was turned into a mosque in 1453 and remained so until it was secularized and became a museum in 1935.
#Turkish Presidency sources:The conversion of #HagiaSophia into a mosque is not on the president Erdogan's agenda pic.twitter.com/YspkqtSyfg

— Mete Sohtaoğlu (@metesohtaoglu) May 28, 2015
Since April, rumors anticipating the Hagia Sophia's restoration to a mosque have been preceding the general election on June 7. Religious Turks are likely supporters of the ruling Justice and Development Party. However, the office of President Recep Tayyip Erdogan denied such claims.
You can share this story on social media: