New Zealand's spy agency forced to apologize for calling Kim Dotcom 'fatty'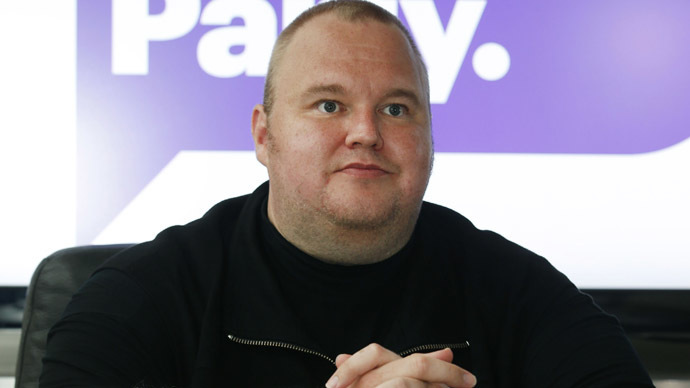 The Security Intelligence Service of New Zealand (SIS) was forced to publicly apologize to internet tycoon Kim Dotcom after the publication of internal emails in which the spies called him a "fatty" who was never going to get far from the cops on foot.
The series of embarrassing emails was released after the New Zealand Weekend Herald newspaper sent a request under freedom of information laws. The correspondence included a letter in which an SIS staff member sent an image of Dotcom to others, saying: "This picture of Dotcom will forever crack me up – what a fatty po po."
To this Govt I'm not a human being They call me 'fatty po po' Foreigners are a joke to them Stay away from NewZealand http://t.co/RS7Ia9bBeD

— Kim Dotcom (@KimDotcom) May 30, 2015
One of the offensive replies, apparently referring to a police raid on his house, said Dotcom was "never going to get far from the cops on foot," while another suggested that "he could be defeated by a small set of stairs," according to the paper.
The agency's new chief Rebecca Kitteridge said, expressing regrets to Dotcom, that the staff involved in the correspondence had been given a talk. She added that the emails "do not reflect the level of professionalism that I expect to see in this organization".
"Since that time, the NZSIS has well and truly learned that all internal communications must be completely professional," she added, claiming that the conversation was held long ago and a lot of work has been done since then.
Kitteridge said her "apology to Mr Dotcom was completely sincere," but insisted that some of the "aspects" of his "interpretation" of the agents' attitude were wrong.
The SIS broke the law when they withheld the information I was legally entitled to. And out of the blue a new folder appeared. Full of dirt!

— Kim Dotcom (@KimDotcom) May 30, 2015
The existence of the emails came to light after Dotcom wrote in his Twitter in March that he had received an apology because of "perverse" communications between SIS staff.
This was the second apology that Dotcom received from the intelligence agencies of New Zealand. In 2012, the government's Communications Security Bureau, its foreign spy agency, had to apologize after being caught surveilling him illegally.
READ MORE: Millions for Kim Dotcom? Court lets MegaUpload founder pay mounting legal bills
Dotcom told the newspaper that the emails reflected the attitude of all government departments he had encountered since FBI launched a criminal investigation into Dotcom and his arrest in 2012 over the risks of fleeing New Zealand.
"According to them we are the rich fat poo poo German and his teenage Filipino hooker wife living in New Zealand's most expensive home. Let's destroy them. Let's have some fun," he was cited as saying.
The SIS continued to express concern over the investigation into Dotcom, persuading Immigration New Zealand not to give him a residence permit. However, he was eventually granted residency by officials after they briefed their minister Jonathan Coleman on his application.
The 40-year-old's legal perils started in January 2012, when a police raid on his home in Coatesville, near Auckland, led to the shutdown of his file-sharing service Megaupload.
An FBI-led investigation led to charges laid against him and his partners. Earlier in March, the media mogul also successfully fended off an attempt by US attorneys to revoke his bail, under which he has been at liberty since 2012.