Palestine drops motion to suspend Israel from FIFA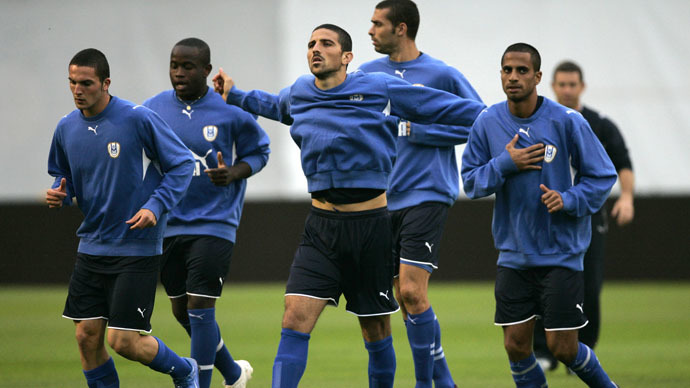 Palestine has dropped its motion to suspend Israel from FIFA, Palestinian Football Association president Jibril Rajoub said. A committee was proposed to monitor the situation between the Palestine and Israeli associations, which FIFA approved.
Speaking at the FIFA congress, Rajoub said he was dropping the motion to have Israel suspended from the organization.
"I have decided to drop the suspension," Rajoub said, adding that he instead proposes that free movement be ensured for Palestinian players.
He also wants an investigation launched into alleged Israeli racism and a vote on Israeli teams on Palestinian territories. Rajoub has accused Israel's Football Association of turning a blind eye to Arabs in Israeli football, and says the five Israeli league teams on occupied land should not be allowed to play.
RAJOUB: I decided to DROP the suspension but it does not mean I give up the resistance to protect the Pal footballers pic.twitter.com/MvbRJlTAB5

— Israel News Flash (@ILNewsFlash) May 29, 2015
He added that he wanted to find a "responsible solution" to the issue, as opposed to "scoring points," Israel's Arutz Sheva 7 reported.
The move was welcomed by FIFA president Sepp Blatter.
The FA president added that he thinks"it is right" to ban Israel, but that "a lot of colleagues" had expressed "how painful it is for them to hear, in this (football) family, to hear the issue of suspension."
Meanwhile, the president of Israel's Football Association, Ofer Eini, said he wanted Israel and Palestine to "work together" and "join forces."
"Let's leave it to the politicians to do politics," he said.
He proposed a joint committee between Israelis, Palestinians, and FIFA, which was approved by the organization.
The multilateral committee of observers will monitor the freedom of players and officials to move in and out of the occupied Palestinian territories.
Eini invited Rajoub to shake his hand at one point, but Rajoub initially refused, stating that he would only do so after a deal was made to address the Palestinian association's grievances.
The two men did indeed shake hands following the proposal's approval.
PHOTO: Palestinian FA and Israeli FA representatives shake hands at #FIFACongresshttp://t.co/jzOKym1atXpic.twitter.com/rTTFzihx8b

— RT (@RT_com) May 29, 2015
The Palestinian Football Association previously submitted a request for Israel to be suspended from FIFA, stating that Israel prevents the movement of Palestinian football players between the Gaza Strip and West Bank, thus limiting the activities of the association.
Israel has cited security concerns for the restrictions, and the country's football association has said it has no control over such matters.
FIFA has been trying to settle the issue for two years. Earlier this month, Blatter traveled to the region to meet with Israeli Prime Minister Benjamin Netanyahu and Palestinian President Mahmoud Abbas.