6.8 earthquake strikes off Alaska's southwest coast – USGS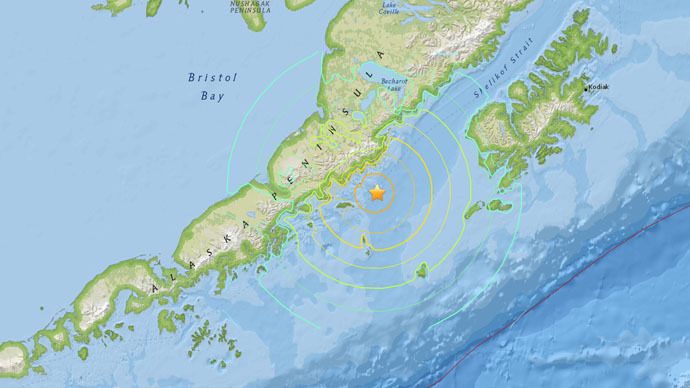 The US Geological Survey says there has been a 6.8 magnitude off the southwest coast of Alaska on Friday. The epicenter is 110km south-southeast of Ugashik with the center estimated at 33km deep.
The Pacific Tsunami Warning Center said that no tsunami was expected. There were no immediate reports of casualties or damage.
No distant #tsunami threat from magnitude 6.8 Alaska #earthquakehttp://t.co/2tOlRAZzMS#PTWC

— NWS PTWC (@NWS_PTWC) May 29, 2015
On May 25, there was another quake in Alaska's Fox Islands region magnitude 4.8. It occurred some 96km southwest of Nikolski settlement on Umnak Island and was 38km deep.
With over 100 volcanoes and volcanic fields, Alaska is a seismically-active territory where earthquakes are commonplace. The largest magnitude earthquake in mainland Alaska occurred on October 29, 1968. It registered magnitude 6.5 and was located southeast of the village of Rampart, on the Yukon River.