​Japan volcano eruption triggers highest alert, locals' evacuation (VIDEO)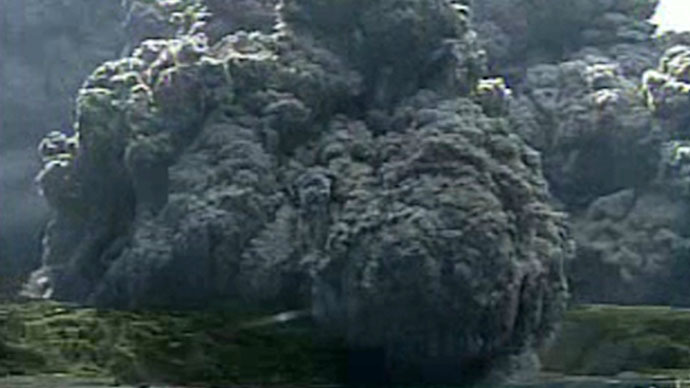 A sudden volcano eruption on the small southern Japanese island of Kuchinoerabu-jima has forced authorities to raise the alert to the highest level and advise evacuation of the immediate area. Residents have fled by boat to the nearest neighboring island.
Authorities decided to evacuate the island's 137 residents, NHK national television reported. The residents fled by boat to the closest neighboring island of Yakushima, one hour away.
"All I could bring were a few emergency goods. It was utter chaos," one man told Fuji TV. "I'm really worried about things back home."
The island's population is 147. A .gif of the eruption: pic.twitter.com/NFrmcnwcqW

— Nippon.com (@nippon_en) May 29, 2015
Mount Shindake suddenly erupted at around 10:00 a.m. local time, sending a large plume of black smoke some 9,000 metersinto the sky. The Japan Meteorological Agency has issued a level five warning for the area, the highest on its scale.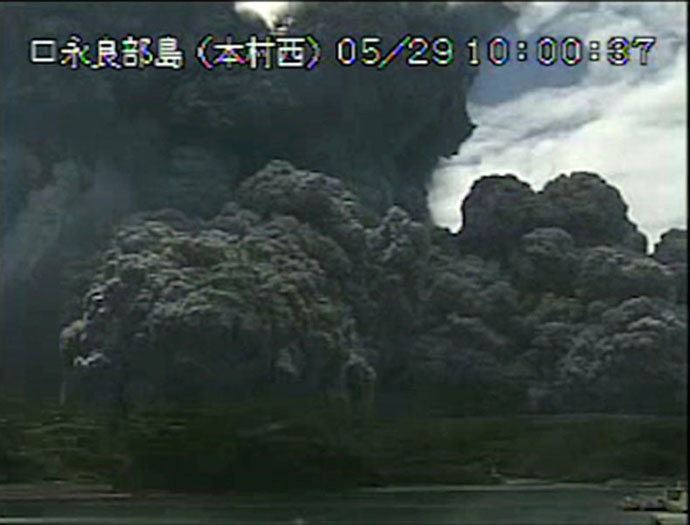 A pyroclastic flow of gas and rock flowed down Mount Shindake and reached the ocean, according to authorities, who warn of the possibly of further large-scale eruptions and call for "extreme caution."
"There was a huge bang and black smoke rose up immediately," Nobuaki Hayashi, an island official, told NHK television.
"It sounded like dynamite had exploded, and the house shook," a resident told TV Asahi.
A 72-year-old man suffered burns to the face after being caught in the pyroclastic flow, but there were no other reports of injuries.
A Coast Guard ship was sent to the island for the evacuation of residents, and a military helicopter was also dispatched.
Japan's Chief Cabinet Secretary Yoshihide Suga said the government is trying gather information and secure the safety of residents, emphasizing there is no risk to human life, Reuters reported.
Japan Kyushu volcano ,Kuchinoerabujima huge eruption !, nearby Sendai nuclear power plant! pic.twitter.com/w9f58JVnQA

— 電気ミント (I am not Abe) (@denki_minto) May 29, 2015
The remote island is located fairly far away from any heavily populated urban areas and is about 160 km south of Sendai nuclear plant, located on Japan's southernmost main island of Kyushu. There were no reports of any irregularities at the plant following the volcanic activity.
As a precaution, some flights to Okinawa and Southeast Asia have been diverted.
Although the island has seen several eruptions, including one in 1933 that killed eight people, Mount Shindake was dormant for 34 years until last year.
Flights at this time are generally unaffected by volcanic eruption in Japan. http://t.co/M7yD6vd2H4pic.twitter.com/8kviClznsj

— Flightradar24 (@flightradar24) May 29, 2015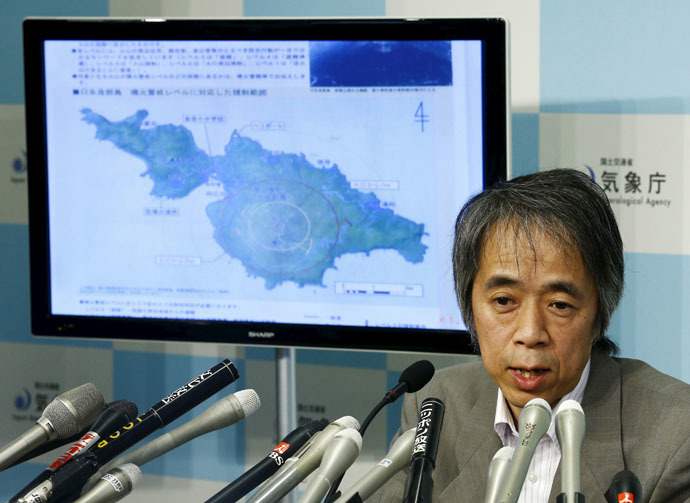 You can share this story on social media: