Prostitution in France costs society €1.6 billion per year, report says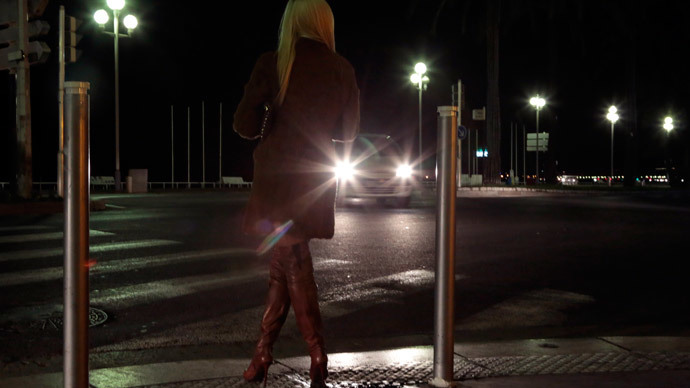 There are about 37,000 prostitutes in France who cost the country €1.6 billion a year (over $1.7 billion), a new study funded by the European Commission has revealed. It put the industry's annual turnover at €3.2 billion.
The report called Prostcost was issued Thursday by the Mouvement du Nid, an organization aimed at helping sex workers, and conducted with the help of the Psytel, a company which provides public health statistics.
The authors of the report estimated the number of prostitutes in France to stand at about 37,000.
The report said that the sex industry brings an annual turnover of €3.2 billion ($3.5 billion), based on the estimated number of prostitutes and their assumed average monthly earning.
Prostitution costs the country €1.6 billion a year, said the authors of the report which based the figure on national data, studies, existing surveys, expert analyzes and interviews of prostitutes.
The report revealed that the majority of sex workers – 62 percent – operate online, while 30 percent work on the street and 8 percent find clients in hostess clubs or massage parlors.
Seulement 100 policiers et gendarmes pour lutter contre réseaux proxo #prostcosthttps://t.co/mkoewiVgywpic.twitter.com/SNomOd7jfY

— Mouvement du Nid (@MouvementduNid) May 28, 2015
According to the report, the average annual income of the industry stands at €87,700 ($96,000) and most of it is sent abroad. The authors also put the industry's tax evasion at €853 million ($934 million) a year.
The authors compared these figures with the social spending such as emergency accommodation, social benefits, preventive measures, etc. provided to prostitutes, which they say are between €50 and €65 million ($55-$71 million). They add that public funding for associations that support sex workers is less that €2.4 million ($2.6 million).

Aides de l'Etat aux personnes prostituées = 65€/an/personne = Cacahuètes #prostcosthttps://t.co/mkoewiVgywpic.twitter.com/CUtzDWZKer

— Mouvement du Nid (@MouvementduNid) May 28, 2015
"If the clients of prostitutes were to spend their money on any other activity, France would increase its tax revenues and save several hundred million euros each year from prostitute-related expenses," said the authors of the report as quoted by local BFM TV.
The report warns there is a high human cost for prostitutes considering they are six times more likely to be victims of rape and 12 times more likely to commit suicide than people of other professions.
Ce ne sont pas les p.prostituées qui "coûtent cher" à la société, mais les violences des clients et proxos contre elles #prostcost

— Mouvement du Nid (@MouvementduNid) May 28, 2015
However, some critics have pointed out that the report was non-scientific as it is impossible to estimate the number of sex workers due to the industry's underground character.
"This isn't a scientific study," Maitresse Gilda, spokeswoman from the French sex-workers union Strass, told French newspaper 20 Minutes. "The arguments aren't substantiated. Not only does it belittle us, but it puts the economic and social burdens on our shoulders."
READ MORE: Drugs, prostitutes see UK pip France in world economy stats
"How can they know the number of prostitutes in France? This is an industry where everything is secret and opaque. The numbers are insane," she added.
Currently, prostitution is legal in France, but its advertisment is prohibited. In March, French lawmakers scrapped a plan to target clients of prostitutes with fines and instead offered to reinstate a ban on offering sex for sale. If passed, prostitutes will face fines of up to €3,750 ($4,105) and two months in prison.
You can share this story on social media: