Fractured Syrian opposition meets in Kazakhstan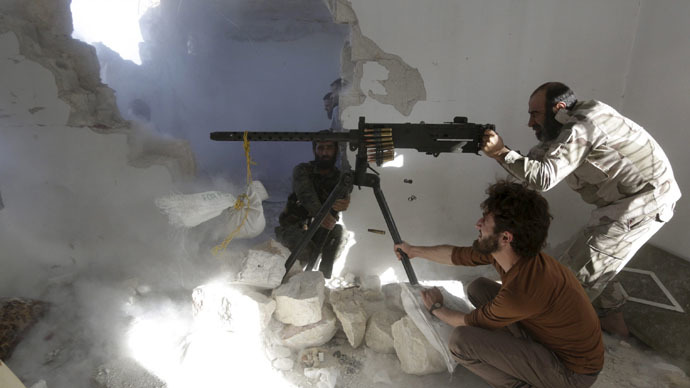 Most delegates of various factions of the highly-fractured Syrian opposition have signed a joint document summing up a fresh round of reconciliation talks in the Kazakh capital, Astana.
"The overwhelming majority of representatives of various Syrian opposition groups signed a final document on the results of the talks," Bassam Bitar, a representative of the Movement for Pluralistic Society, told Sputnik. The Syrian government opted to stay out of the talks which included civil society figures and independent activists.
Foreign mercenaries on the ground became the main point of contention in the two day closed door talks.
"We believe that all foreign mercenaries should leave the country. It is our principle. We are not calling for their immediate withdrawal. But if we're talking about the beginning of a political process, in the end they will have to leave the country," the leader of the Movement for Pluralistic Society Randa Kassis said. "Some still believe that in this case, Hezbollah should also leave," she added.
Syrian opposition talks begin in AstanaRepresentatives of the Syrian opposition began their talks in Astana on May 25;...Posted by Ministry of Foreign Affairs, Republic of Kazakhstan on Sunday, May 24, 2015
Earlier this spring, representatives of the Syrian opposition asked Kazakhstan to mediate in talks on the Syrian crisis. Astana, concerned with the "severe humanitarian situation" decided to provide a platform for negotiations, the Foreign Ministry said when the talks started on Monday.
Meanwhile Kazakhstan's foreign minister Erlan Idrissov expressed hope that Syrians can "find ways to resolve the crisis."
READ MORE: Moscow hosts fractured Syrian opposition in attempt to break peace-talks deadlock
The consultations will wrap-up on Wednesday with Idrissov planning to meet the delegates once again in the morning.
Talks in Astana follow a summit in Moscow where representatives of the Syrian government and some mainstream members of the opposition that met for negotiations in April.
Damascus met the opposition twice over the last three years at UN-sponsored Geneva conferences. The Assad government also send emissaries twice to Moscow. But so far nothing fruitful has emerged from talks between parties involved in Syria, especially with the Islamic State now controlling major parts of Syrian territory.
The civil war in Syria began in 2011, when the US-backed opposition began an armed rebellion against President Bashar Assad's government during the so-called Arab Spring. By 2013, large portions of eastern Syria and western Iraq had fallen under control of militants from the Islamic State (formrly ISIS/ISIL). While declaring the need to fight ISIS, Washington continues to demand the overthrow of Assad in favor of "moderate opposition."
You can share this story on social media: