Unique pink iguanas endangered by Galapagos Wolf Volcano eruption (VIDEO)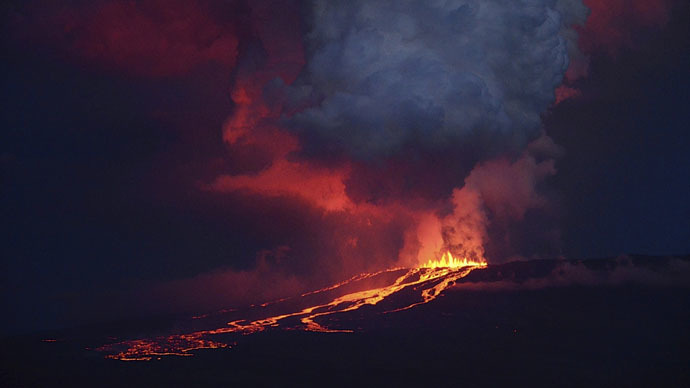 The world's only population of a unique species of pink iguanas could be at risk after the Wolf Volcano, located on Ecuador's Isabela Island, began erupting in the early hours of Monday morning after 33 years of inactivity.
According to a statement released on social media by Galapagos National Park, the eruption, located in a unpopulated area on the largest island of the Galapagos, poses a potential threat to a population of some 500 pink iguanas that inhabit the area around the volcano.
"The volcano is not located near a populated area," the Park said. "There is no risk for the human population," the Twitter post elaborated, however, stating "the only population of pink iguanas in the world" lived there.
#Ecuador | Pink iguanas at risk as #volcano erupts on #Galapagos Islands http://t.co/1k4h3acoy0pic.twitter.com/dWyxfNV5Z6

— teleSUR English (@telesurenglish) May 25, 2015
So far the lava is flowing down the volcano's southern face, the Environment Ministry said in a statement. The endangered lizards are based on the northern face of the mountain, so unless the pattern changes, the pink iguanas are likely to escape harm.
El volcán #Wolf en #Galápagos erupciona después de 33 años » http://t.co/r4FDJQEw67 Fotos @parquegalapagospic.twitter.com/tumZOM6qv0

— El Comercio Ecuador (@elcomerciocom) May 26, 2015
However, the lava can harm marine life once it reaches the ocean, the country's Geophysics Institute said, adding that populated areas of the island could suffer consequences from the ash cloud.
Video erupción de #Wolf en nuestro facebook. Míralo gracias a tripulación @celebritycruises https://t.co/i8lItd7Z4npic.twitter.com/dqWrRfaOdB

— Parq. Nac. Galápagos (@parquegalapagos) May 25, 2015
At a height of some 1.7 kilometers (5,500 feet), Wolf Volcano is the highest point on the Galapagos Islands. The eruption sent a dark plume into the sky to an estimated altitude of 10 km (33,000 feet).
The Galapagos Islands are located in the Pacific Ocean, some 1,000 kilometers off the coast of Ecuador. Its isolated volcanic archipelago terrain shelters a diversity of plant and animal species, many found nowhere else on the planet. Pink iguanas reside together with yellow iguanas and giant tortoises.