​Leaking Fukushima containers could lead to hydrogen explosions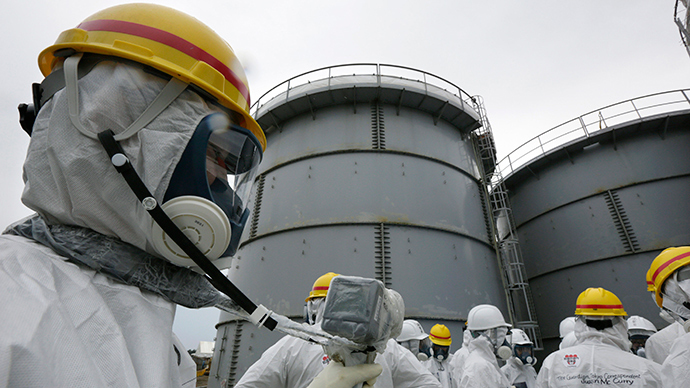 Containers holding contaminated water at the crippled Fukushima nuclear power plant are at risk of hydrogen explosions, with 10 percent of them found to be leaking. As many as 333 containers may be defective, according to TEPCO.
The first leak was discovered by the plant's operator, Tokyo Electric Power Company (TEPCO), on April 2. The discovery prompted an inspection of other containers at the site.
Twenty-six of the 278 containers examined by May 20 had some sort of leak or were bleeding from their lids. There are a total of 1,307 containers at the plant.
According to TEPCO, the leaks and bleeding were likely caused by hydrogen and other types of gases that resulted from the water's exposure to high levels of radiation. Those gases appear to have accumulated in sediment at the bottom of the containers, expanding the volume of the liquid.
READ MORE: Japan takes S. Korea to WTO over Fukushima food restrictions
TEPCO reported its findings during a Friday meeting with a study group from the Nuclear Regulation Authority (NRA), which expressed concern about the potential hazards of accumulated hydrogen build-up in the containers.
"If the concentration level is high, a spark caused by static electricity could cause a container to [explode]," an NRA official told The Asahi Shimbun.
Although all the container lids were supposed to be fitted with pressure-release valves to allow gases to escape, the inspection determined that one did not have that mechanism. Further review of the delivery records showed as many as 333 others may also be defective, a TEPCO official said.
However, TEPCO stated that no radioactive water was found to have escaped outside the concrete structures that encase the containers.
"We think the possibility of an occurrence of hydrogen explosion from these storage facilities is extremely low, since there is no fire origin, or anything that generates static electricity nearby," TEPCO spokeswoman Mayumi Yoshida told the Telegraph.
READ MORE: Fukushima pressure relief system failed at Reactor-2 after disaster, TEPCO reveals
Stressing TEPCO's efforts to deal with the issue, Yoshida added: "For temporary measures, we have been removing the leaked water, installing absorption materials, monitoring by patrol, keeping water level inside those facilities lower than set and keeping equipment which may generate fire away. In the long term, we're going to lower the water level of current facilities so as to prevent further leakages."
She also stated that in the long-term, TEPCO will lower the water level of current facilities in order to prevent further leakages.
The containers, which are made of polyethylene, are 1.8 meters (5.9ft) high and have diameters of 1.5 meters (4.9ft). They store wastewater from the ALPS (advanced liquid processing system) equipment that removes radioactive substances from contaminated water.
The Fukushima Daiichi nuclear power plant suffered multiple reactor meltdowns following an earthquake and tsunami in March 2011. As of March, TEPCO and the Japanese government had already spent 590 billion yen (US$4.8 billion) on decommissioning the reactors and tackling the accumulation of contaminated water.
TEPCO 'underestimated tsunami risk'
The International Atomic Energy Agency (IAEA) said in a report that TEPCO failed to implement adequate safeguards at Fukushima – despite being aware of the tsunami risk. The document was obtained by Kyodo news agency on Monday.
READ MORE: TEPCO must focus on long-term radioactive Fukushima waste management – watchdog
According to the 240-page report, several analyses carried out between 2007 and 2009 predicted the possibility of an 8.3-magnitude earthquake on the coast of Fukushima, which could result in the plant being hit by a tsunami of around 15 meters.
However, TEPCO and Japanese authorities delayed responding to the predictions, feeling that "further studies and investigations were needed."
"TEPCO did not take interim compensatory measures in response to these increased estimates of tsunami height, nor did NISA require TEPCO to act promptly on these results," reads the text.
The report, prepared by 180 experts from 42 countries, will be presented at the annual IAEA meeting in September, if approved by its board of directors in June.
You can share this story on social media: