​'It's time Mrs. Merkel': German opposition calls on gay marriage referendum after Irish success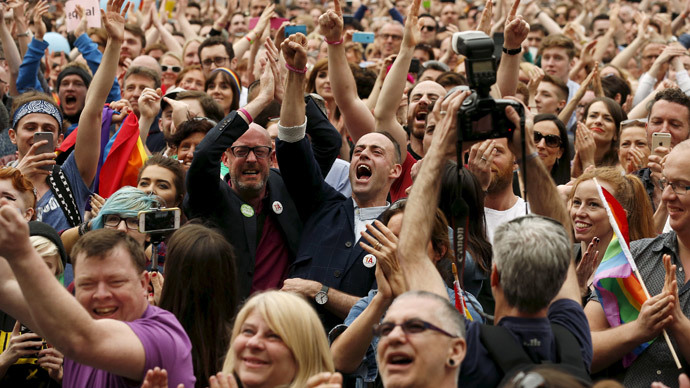 Germany's opposition parties want to follow in Ireland's footsteps when it comes to legalizing same-sex marriage, urging Chancellor Angela Merkel that it's time to take action on the LGBT issue.
The Green Party nudged Merkel on Sunday, with party's leader Katrin Göring-Eckardt saying: "It's time Mrs. Merkel," Die Welt newspaper reported. "The Merkel faction cannot just sit out the debate on marriage for all…I am confident that the Irish vote will accelerate equality in Germany."
With all the votes counted on Saturday, Ireland has become the first nation in the world to legalize same-sex marriages by referendum. In a historical vote Ireland has approved same-sex marriages with 62.1 percent saying 'Yes' and 37.9 percent 'No'. The total turnout was 60.5 percent.
READ MORE: Ireland becomes first country to approve gay marriage in referendum
"This is a great signal from Ireland," said Göring-Eckardt. "Equal love deserves equal respect."
The Green Party's domestic policy spokesman Volker Beck added that the steps taken in Ireland could push Germany onto the similar path.
"The Irish people have made it clear: the oppression of gays and lesbians is not a Christian value," Beck said.
The first openly gay politician on the Merkel's ruling center-right Christian Democratic Union (CDU) party board Jens Spahn responded to the Irish news with optimism.
"What the Catholic Irish can do, we can do, too … The populace is often further along in these matters than we think," Welt Daily quoted him as saying.
For a decade Germany was ahead of Ireland in terms of same-sex marriage rights. Same-sex civil partnerships were approved in Germany with the Civil Partnership Act in 2001, while Ireland, where homosexuality was a criminal offense until 1993, got similar recognition only in 2010. However, Germany's progress does not provide same-sex couples with the same adoption rights.
Germany's politicians recently expressed concern that some parties are making it difficult to move forward with full legalization of same-sex marriages.
Minister of Justice Heiko Maas from the Social Democratic Party (SPD) was one of the politicians to express criticism, stating that it is "difficult to achieve" any progress in a coalition with the CDU.
However, the deputy of the Free Democratic Party (FDP) Chairperson Katja Suding said the SPD was actually not looking to extend same-sex marriage rights, but instead was hiding behind CDU's position.
"It was actually the conservative ruling party, who wanted to extend the marriage law out of conviction and so has not been spared the risk of a referendum in Ireland," Sudkurier newspaper quoted Suding as saying.
You can share this story on social media: