Polish President Komorowski concedes defeat to conservative challenger in runoff election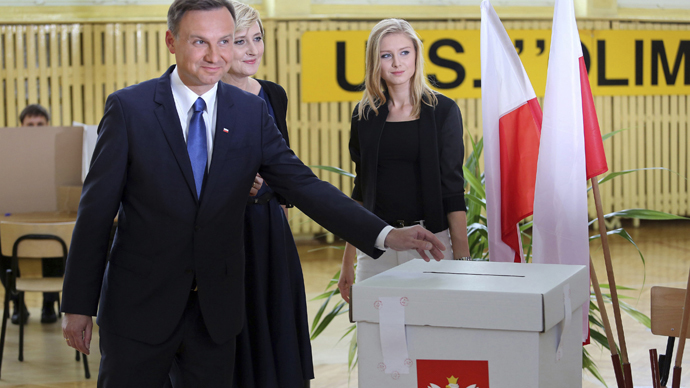 Polish President Bronislaw Komorowski conceded defeat in Sunday's presidential election to his conservative challenger, Andrzej Duda, following the release of an exit poll putting the head of the Law and Justice party ahead of the incumbent by 6 percent.
According to a poll conducted by Ipsos, Duda received 53 percent of the vote, to Komorowski's 47.
The first round of presidential election took place on May 10, but no candidate received over 50 percent of the vote.
READ MORE: Polish voters show their disdain for politics as usual
Conservative candidate Andrzej Duda from the Law and Justice party gained 34.76 percent, while Bronislaw Komorowski from ruling Civic Platform got 33,77 percent.
During his campaign Duda – a moderate Eurosceptic - stressed that Poland shouldn't transfer so much cash to the EU. Also he promised a vote on exiting the bloc if the people want it.
"Perhaps these years have been good, but only for a narrow group," Duda told his supporters on Friday. "Yes, it's time for change, time to end this sluggish, indolent presidency."
Komorowski, the incumbent president, stands for closer ties with the EU and NATO as the only way to stand up to "the threats of the modern world."
"The polls suggest it may be thousands of votes that will decide, perhaps even hundreds, whether Poland will drown in arguments, become an embarrassment to the world because of the views of such people," Komorowski said Friday, referring to Duda.
Earlier in May, Komorowski signed a resolution approving the establishment of a Lithuanian-Polish-Ukrainian military unit, which has been in the works since 2007.
READ MORE: 'EU support in Poland – split between rural farmers and urban class'
He also urged other European countries to spend more on defense. Komorowski suggested excluding defense spending from EU rules on budget deficit limits. This means that EU nations will be able to allocate more money to the military without fearing increased budget controls from Brussels. Komorowski's offer comes at a time of heightened tensions with Russia.
The president's Civic Platform party has been in power for eight years. Though it claims Poland has reached economic growth, many of country's citizens believe that the politics of the party resulted in increased inequality.
"Economic growth? For the average citizen it is hardly perceptible," Zbigniew Pela, a railway worker who cast a vote for Duda, told Reuters. "They create good living conditions for some social groups, who have their businesses, and not for ordinary citizens."
READ MORE: Polish president suffering from 'anti-Russian diarrhea' – opposition
Piotr Matys, an emerging markets strategist at Rabobank, said that even if Duda "fails to dethrone President Komorowski, I think that the Civic Platform may not stay at the helm after the general election due later this year."
In the meantime, there are many supporters of Komorowski, who believe that strengthening ties with NATO and the EU will help to revive the country.
"Komorowski ... cooperates with NATO and the EU and will form one front with them, without going ahead of everyone and waving his saber," said Michal Moranski, a 26-year-old barman, told Reuters.
In the first round of voting, 11 candidates took part.