EU drops controls on dangerous chemicals after TTIP pressure from US – report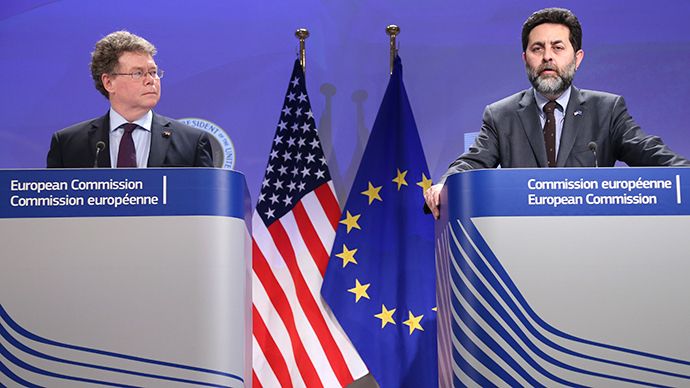 EU proposals to regulate hormone-damaging chemicals linked to cancer, fertility problems and diabetes were allegedly dropped following pressure from US trade officials amid talks on the controversial Transatlantic Trade and Investment Partnership (TTIP).
Draft EU criteria could have banned some 31 pesticides containing dangerous endocrine disrupting chemicals (EDCs), but according to documents obtained by Pesticides Action Network (PAN) Europe and cited by The Guardian, they were cast aside amid fears of a trade backlash by a powerful US lobby.
According to the report, a high-ranking delegation from the US Mission to Europe and the American Chambers of Commerce (AmCham) visited European Union trade officials in July 2013 in a bid to urge the EU to drop its planned criteria for identifying EDCs in favor of a new impact study. The TTIP trade deal was at stake, and the EU allegedly agreed to the US demands.
TTIP is a highly controversial proposed EU-US free trade treaty that has been criticized for its secretiveness and lack of accountability.
READ MORE: Secretive trans-Atlantic trade pact faces global day of action (PHOTOS, VIDEO)
AmCham representatives allegedly "complained about the uselessness of creating categories and thus, lists" of prohibited substances. The US trade representatives reportedly suggested taking a risk-based approach to regulation, and "emphasized the need for an impact assessment" instead.
The secretary-general of the commission, Catherine Day, allegedly sent a letter to the environment department's director, Karl Falkenberg, telling him to drop the draft criteria, suggesting that "as other DGs [directorate-generals] have done, you consider making a joint single impact assessment to cover all the proposals" instead.
"We do not think it is necessary to prepare a commission recommendation on the criteria to identify endocrine disrupting substances," she allegedly wrote.
The result, according to The Guardian, was that legislation planned for 2014 was "kicked back until at least 2016, despite estimated health costs of €150bn per year in Europe from endocrine-related illnesses such as IQ loss, obesity and cryptorchidism – a condition affecting the genitals of baby boys."
READ MORE: TTIP talks could undermine human rights - UN official
On top of this, ahead of the meeting, AmCham had allegedly warned the EU of "wide-reaching implications" if the draft criteria came to be approved. According to The Guardian, AmCham wanted an EU impact study to set looser thresholds for acceptable exposure to endocrines, based on a substance's potency.
Bas Eickhout, a Green member of the European Parliament, told The Guardian: "These documents offer convincing evidence that TTIP not only presents a danger for the future lowering of European standards, but that this is happening as we speak."
The Environmental Audit Committee (EAC) of the UK House of Commons is currently carrying out an inquiry into the proposed TTIP and its impacts on the environment and the developing world.
"We are very concerned that the US government has a long history of lobbying against EU action on chemicals, and that TTIP could provide a method for them to institutionalise this," EAC wrote in January, adding that the US approach to chemicals regulation is generally acknowledged to be "outdated and ineffective."
"Our strong belief that the inclusion of chemicals within TTIP will lower protection in the EU, and will further slowdown efforts to protect human health and the environment from hazardous chemicals," the committee warned.
Earlier this year, CHEM Trust (a UK charity whose aim is to prevent manmade chemicals from causing long-term damage to wildlife or humans) and around 150 other civil society groups signed up to a joint statement against regulatory cooperation in TTIP.
READ MORE: US lawmakers agree to fast-track secretive international trade deals
"Civil society groups denounce 'regulatory cooperation' in the TTIP negotiations as a threat to democracy and an attempt to put the interests of big business before the protection of citizens, workers and the environment," the statement said.
According to the State of the Science of Endocrine Disrupting Chemicals 2012 report, many endocrine-related diseases and disorders are currently on the rise. Global rates of endocrine-related cancers (breast, endometrial, ovarian, prostate, testicular and thyroid) have been increasing over the past 40-50 years, researchers say.
"Close to 800 chemicals are known or suspected to be capable of interfering with hormone receptors, hormone synthesis or hormone conversion. However, only a small fraction of these chemicals have been investigated in tests capable of identifying overt endocrine effects in intact organisms," the report stated.
Scientists warn that while numerous laboratory studies support the idea that chemical exposures contribute to endocrine disorders in humans, the "most sensitive window of exposure to EDCs is during critical periods of development, such as during fetal development and puberty."
You can share this story on social media: