#hometovote: Irish expats travel back for gay marriage referendum
Published time: 22 May, 2015 12:36
Edited time: 22 May, 2015 15:34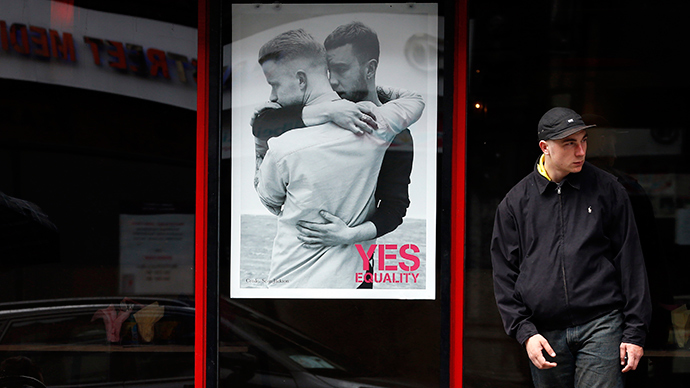 As Ireland goes to the polls for the world's first nationwide referendum on equality marriage, expatriates all over the world are returning to their homeland to take part in the historic event.
Irish citizens living overseas are documenting their journey home on social media, using the hashtag #hometovote, and needless to say it's sparked emotion.
The lack of postal vote options means Irish expats backing the "Yes" vote are traveling from as far as the US and Kenya to make their voice heard.
Here's an interactive map of the #hometovote trending worldwide
It will be the first country to hold a national referendum on whether to enshrine legal protection of marriage equality in the nation's constitution.
A poll conducted by Irish market research agency IPSOS MRBI last weekend showed that 58 percent of those surveyed planned to vote in favor of gay marriage.
Some 25 percent intended to vote against it, while 17 percent were undecided.
Whereas other countries have simply changed the law to enshrine marriage equality, Ireland's written constitution can only be amended by a national referendum.
READ MORE: Ireland to hold world's first popular vote on gay marriage, polls in favor
Irish Prime Minister Enda Kenny made a final plea for a "Yes" vote on Wednesday.
Speaking on Irish TV, he said: "There is nothing to fear for voting for love and equality."
Sequential Irish governments have long been viewed as socially conservative. The state only decriminalized homosexuality in 1993, following a ruling by the European Court of Human Rights.
In recent years, Ireland has seen a steady rise in progressive grassroots politics. Observers say a "Yes" vote on Friday will further highlight this trend.
One Twitter user posted a picture of a packed train, carrying voters from London to the Welsh ferry port of Holyhead, where they will board a boat to Dublin, the Irish capital.
Another said the hashtag made her "proud to be Irish," and many proclaimed their excitement at becoming part of the historic day.
Results of the vote will be revealed at 22:00 GMT Friday.
This is the scene on the 9:10 London to Holyhead train as Irish abroad return #hometovote#marrefpic.twitter.com/spVfkb5sIT

— Naomi O'Leary (@NaomiOhReally) May 22, 2015
There's another Yes vote coming!! Booked an early flight home to make sure I'm back on time #hometovote Love is Love after all.

— Emma Kiernan (@EmmaMariaK) May 22, 2015
Feel like legging it out to the airport to high five all the boys & girls who are #hometovote! GWAN YA GOOD THINGS!!!!

— Dustin The Turkey (@DustinOfficial) May 22, 2015
The #hometovote hashtag is making me so proud to be Irish/a little teary eyed. Come on the #YesVote!! ❤️ pic.twitter.com/V8Dthy1ypK

— Orla O'Reilly (@OrlaAoife) May 22, 2015
Full capacity on flights at @DublinAirport today, acc to Aer Lingus man last night. Loads more #hometovote photos throughout the day!

— Helen O'Rahilly (@HelenORahilly) May 22, 2015
#HomeToVote Greatest hashtag ever? pic.twitter.com/8krfXGlJCv

— DC (@donal_cahalane) May 22, 2015
On the plane. History here I come! #hometovotepic.twitter.com/VZ6FjBNfrg

— Der is voting YES! (@derhoward) May 22, 2015
Never been so happy to be at an airport gate. LGA to PHL to DUB to YES. #hometovote

— Belinda McKeon (@belindamckeon) May 21, 2015
Not long now #hometovotepic.twitter.com/v6ztDY8dw7

— Gang of one (@gang_of_one) May 21, 2015