Violence erupts in Kiev as protesters attack controversial construction site (VIDEO)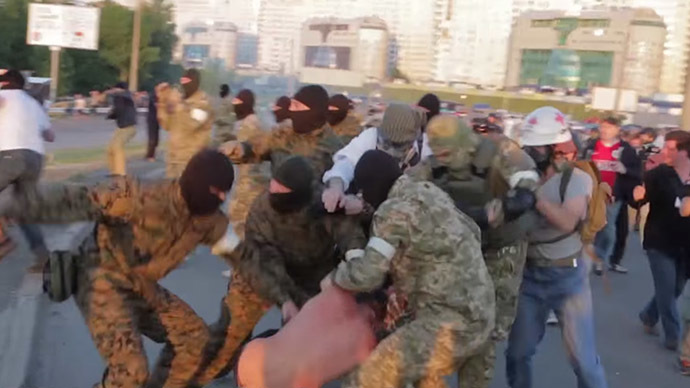 A protest against the construction of a new shopping mall in Kiev turned into a violent confrontation when a melee broke out among protestors, camouflaged hooligans, and police. Fifteen police officers were reported injured in the incident.
READ MORE: World swatting away Ukraine like 'an annoying fly' – ex-president Yushchenko
Activists campaigning against construction of a new mall, 'Le Boulevard,' near Kiev's "Osokorky" metro station tried to demolish a fence surrounding the construction site late on Tuesday, succeeding in inflicting much damage to the property.
They were confronted by an unknown group of men wearing camouflage and masked in balaclavas. Local media outlets branded these as "titushki" – Ukrainian slang for hired thugs.
Smoke flares were used by some participants in the brawl, while both sides threw stones at each other.
A video of the incident shows some people lying on the ground being violently beaten by a raging crowd.
READ MORE: 'Great Ukrainian Wall': Kiev plans to spend $200mn on Russian border defenses
Fifteen police officers and several protesters were wounded during the clashes, RIA Novosti reported.
It is not the first time violence has erupted near this construction site. In April, three police officers were shot during a similar incident. The protests began last summer when plans to build a new mall in the green space were announced. Construction work was frozen, but last night the fence appeared again, provoking the new wave of protests.
Kiev's mayor, Vitaly Klichko, proposed banning construction of the mall, but the building firm threatened take the city to court. Protesters accuse the mayor of negligence.
You can share this story on social media: