​Headhunting: Saudi Arabia hiring 8 new executioners after 2015 beheadings hit 85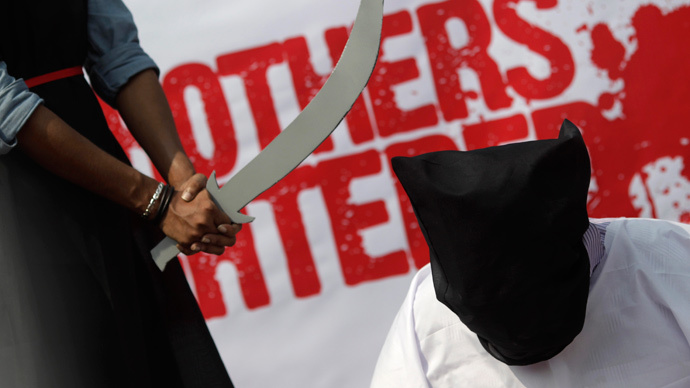 Saudi Arabia, which executes more criminals than any nation except China and Iran, wants to hire eight new executioners. A surge in executions has been witnessed under new King Salman's rule.
The job description published online on Monday says no special training is required from applicants. The executioners would be required to behead condemned criminals in public as well as carry out amputations on those convicted of lesser offenses, Reuters reported.
The executioners would be considered as 'religious functionaries', since they would be serving religious courts and be on the lower end of the civil service pay scale, the ad said.
The recruitment drive comes a day after Saudi Arabia executed the 85th person this year. The number reached in less than five months is compared to an estimated 90 executions over the whole 2014, according to Amnesty International.
Beheading of 5 foreigners in Saudi Arabia triggers outcry from human rights campaigners
Saudi Arabian authorities do not officially explain the surge in executions. Some observers suggest that since King Salman ascended the Saudi throne in January, additional judges have been appointed and managed to deal with a backlog of appeal cases by death-row inmates.
Criminals are usually executed in Saudi Arabia by public beheading, although occasionally death by stoning or firing squad is ordered. The crimes punishable by death range from violent crimes like murder and rape to blasphemy, adultery, drug crimes, witchcraft and sorcery.
About half of those executed are Saudi nationals. Most of the others come from countries like Pakistan, Yemen, Syria, Jordan, India, Indonesia, Burma, Chad, Eritrea the Philippines and Sudan, according to Human Rights Watch.
While beheadings are public, filming them is forbidden. In January, footage of a woman's execution was leaked online, leading to the arrest of the person responsible.
In 2014, Saudi Arabia was ranked third on Amnesty International's list of countries that carry out the most executions, surpassing Iraq and the United States. China and Iran were ranked 1st and 2nd respectively. Twenty-two countries are currently known to practice capital punishment.
You can share this story on social media: