Police injured as thousands protest small PEGIDA rally in Stuttgart (PHOTOS, VIDEO)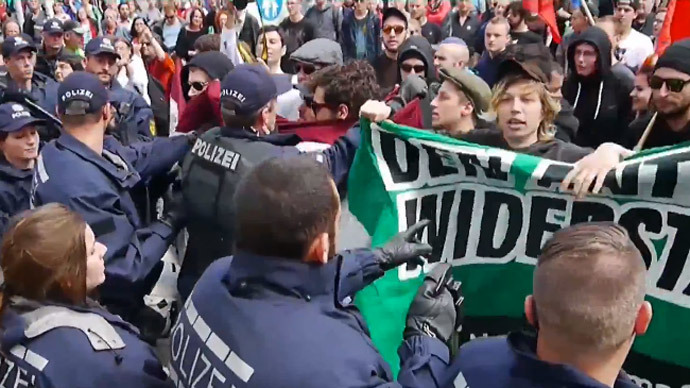 At least six police officers have been injured in clashes in German Stuttgart after thousands of anti-PEGIDA protesters attempted to block a planned PEGIDA demonstration.
At least 4,000 people gathered for the anti-PEGIDA rally dubbed 'For diversity, against racism', while the PEGIDA march attracted relatively few participants – only 200, according to Stuttgart police.
About 1,000 police officers were on duty to control any outbreaks of violence between the two groups.
But despite heavy security and police presence there were reports of heated "verbal disputes" between the protesters, police wrote. Eggs and apples were thrown at officers, who also found a smoke bomb in the area, German press reported.
#Polizei fordert die Demonstrierenden zu friedlichem Verhalten auf. Personen ist der Zugang zur Pegida-Demo zu gewähren. #nopegidaS#pegida

— POLIZEI_STUTTGART (@PP_Stuttgart) May 17, 2015
One of the buses transporting PEGIDA supporters was damaged by stone throwing.
Gegendemo kreist Pegida-Kundgebung in Stuttgarter City ein http://t.co/zouyNK5f7kpic.twitter.com/XdmqJxKbo2

— PEGIDA Trends (@Pegidizer) May 18, 2015
Several police officers on horseback were deployed to push away the demonstrators. They also used batons and pepper spray on protesters who fought back, injuring six officers.
Fotostrecke: Pegida-Demo in Stuttgart: Tausende stellen sich Pegida entgegen Bild 21... http://t.co/K88R6QHhxHpic.twitter.com/zvH0OeUvyp

— PEGIDA Trends (@Pegidizer) May 17, 2015
Police also had to escort some of the PEGIDA activists to their protest venues.
Thousands of supporters of the PEGIDA movement in Germany have been conducting mass rallies against 'Islamization' of the country since October 2014.
II Hier noch ein paar Bildimpressionen der gestrigen #Stuttgart er #NoPegidapic.twitter.com/mE17Q752BT

— st newsroom (@S_Tagblatt) May 18, 2015
PEGIDA is a German acronym, which translates as Patriot Europeans Against the Islamization of the West. Its core principle is that it sees the rise of the influence of Islam in European countries as dangerous, while its manifesto opposes extremism and calls for Germany's Judeo-Christian religious culture to be protected.
Pegida Stuttgart overstemd door tegenstanders http://t.co/2gPWrctHsXpic.twitter.com/OHrrAFSwz8 via @telegraaf

— eildert vinkenborg (@EildertV) May 18, 2015
Stuttgart ist und bleibt bunt. #nopegida #Stuttgart #Pegida #demo

A photo posted by Nadja Golitschek (@nadja_golitschek) on May 17, 2015 at 4:56am PDT
You can share this story on social media: