Saudi Arabia performs 84th beheading in 2015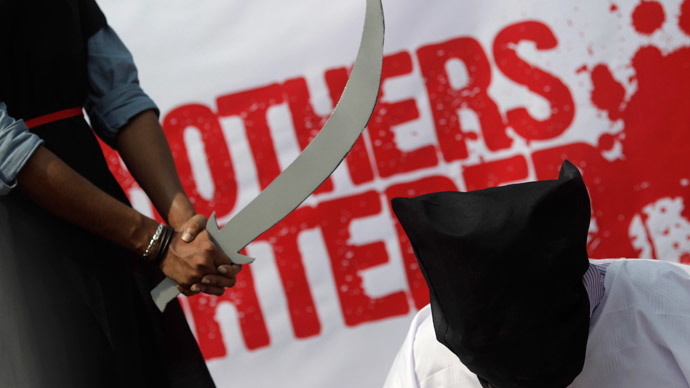 A Pakistani national sentenced to death for drug smuggling has been decapitated in Saudi Arabia, AFP reports. This brings the number of executions since the start of the year to 84 – almost as much as for the whole of 2014.
Iftikhar Ahmed Mohammed Anayat was found guilty of attempting to bring heroin into the Gulf kingdom in balloons concealed in his stomach.
The man was beheaded in the Red Sea city of Jeddah on Sunday, the agency reported, referencing the Saudi Interior Ministry.
The death penalty was carried out a day after an execution of an Indonesian maid, Karni Bt. Medi Tarsim, who was indicted on murdering her employer's 4-year-old child.
Earlier this week, another Indonesian domestic worker, Siti Zainab, was beheaded, despite claims that the woman was mentally ill.
Since King Salman ascended to the Saudi throne, after the death of his predecessor King Abdullah on January 15, 2015, executions, including those of foreign nationals, in the country have stepped up, raising concern in the international community.
READ MORE: Beheading of 5 foreigners in Saudi Arabia triggers outcry from human rights campaigners
Drug trafficking, rape, murder, apostasy and armed robbery are all punishable by death under the strict Sharia law practiced in Saudi Arabia.
The Saudi authorities explained that the beheadings are needed to show the country's commitment to "maintaining security and realizing justice" as well as deter people from criminal acts.
For this reason, the executions are often carried out in public places.
In January, a video of an execution was leaked online, showing a woman's head severed from her body in the middle of a road.
The Saudi officials commented on the incident by saying that the only violation during the act was its illegal filming. The man responsible for making the video was arrested and is awaiting trial, they told CNN.
Saudi Arabia's judicial system is harshly criticized by human rights watchdogs, with Amnesty International ranking the monarchy among the world's top three executioners.
87 people were beheaded in the country in 2014, with half of the executions carried out for non-lethal offenses, Amnesty International said.
You can share this story on social media: