​Macedonia terrorist raid may be linked to country's support of Russia – Lavrov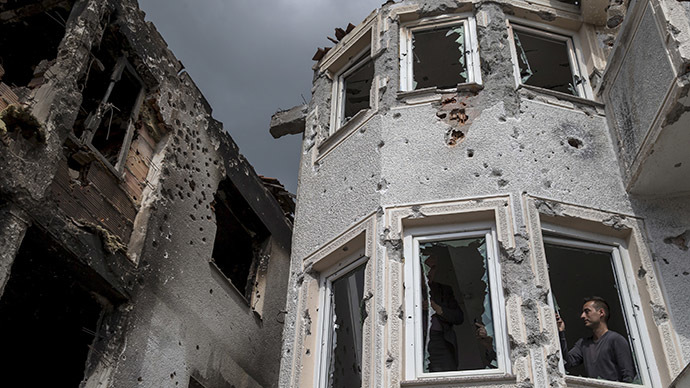 Moscow 'can't help thinking' the recent terrorist attack in Macedonia has something to do with the country's objection to anti-Russian sanctions and participation in the Turkish Stream gas pipeline project, the Russian foreign minister said.
Sergey Lavrov was referring to the events in the city of Kumanovo not far from the Kosovo border, where a raid by gunmen last week resulted in street battles that left 18 people dead, including eight police officers. At least 30 people, most of them Kosovar Albanians, have been charged over the attack in the ethnically diverse city with a strong Albanian presence.
"We are greatly concerned with the latest events in Macedonia, and the situation in Kosovo does not give us any ground for optimism," Lavrov said on Friday during his visit to Serbia. "We are seriously concerned that those were the result of a well-planned terrorist act."
The EU "should not play ostrich and try to present the case as if there were no organizational force behind it," he added, saying officials in Brussels are apparently embarrassed that all their efforts to stabilize the situation in former Yugoslavia have been ineffective.
READ MORE: Macedonians rally for government resignation amid surging political unrest
Lavrov also said Macedonia's position in the ongoing conflict between Russia and the West may have played a role in the attack.
"Objectively speaking, the events in Macedonia are unfolding against the background of the government's refusal to join the policy of sanctions against Russia and the vigorous support Skopje gave to the Turkish Stream gas pipeline project, to which many people oppose, both in Brussels and across the ocean," he said.
"So we can't help but feeling that there is some sort of connection here."
Both Lavrov and his Serbian counterpart Ivica Dačić criticized the idea of so-called Greater Albania, an Albanian nationalist notion to gather all lands with an Albanian population under one government. It would include Kosovo and other parts of Serbia that are currently under Belgrade's control, as well as parts of Macedonia, Montenegro and Greece.
"The idea of Greater Albania is not criticized in either Washington or Brussels," noted Dačić. "The policy of Albanian nationalism must be condemned. It's about terrorism."
Mirroring Lavrov's statements, the Russian Foreign Ministry accused the West of masterminding the violence in Macedonia. The ministry cited reports in the Serbian media that said a Montenegro national was arrested in Macedonia for assisting "Kosovar Albanian extremists," saying it proved that there was a plan in motion to "destabilize the political situation in that country and plunge it into the abyss of a colored revolution."
"This also proves that Western masterminds of such catastrophic scenarios prefer proxies for implementing them, using citizens of countries like Montenegro, which were tempted by NATO lures, in Ukraine and now in Macedonia," the statement on Saturday said.
It added the reigniting chaos in the Balkans would pose a direct threat to Europe.
On Sunday, a massive anti-government rally is expected in Skopje. Opposition leaders are demanding the resignation of the Macedonian government, accusing it of illegally wiretapping Macedonians and covering up the killing by police of a 22-year-old man back in 2011.
You can share this story on social media: