HIV alarm: Number of infected in Russia may double in 4 yrs, expert warns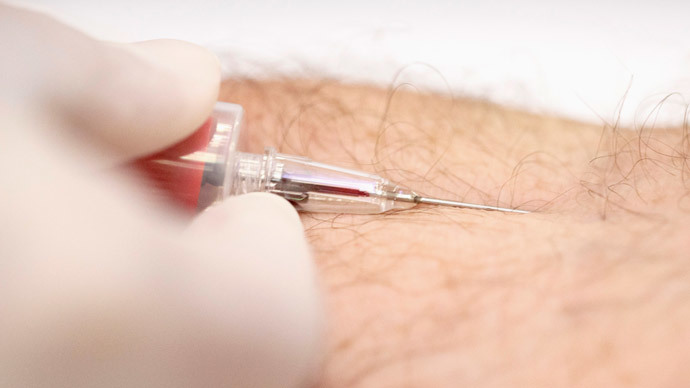 Top AIDS expert, Vadim Pokrovsky, has warned there could be two million registered HIV carriers in Russia in just 4 years. He says sexual education at schools and replacement therapy is the key to arresting the spread of the deadly virus.
The official number of HIV carriers in Russia has grown to over 930,000 people from around 500,000 five years back. However, Vadim Pokrovsky told Kommersant daily: "Official figures can be multiplied at least by two, since the disease is asymptomatic for a long time, so many people do not even know that are already infected." He added that Russians don't think it necessary to take regular HIV tests, because there's still a stereotype in society that the virus threatens only homosexuals and drug addicts.
Of all the cases of the deadly virus detected in 2014, only 1.2 percent were caused by homosexual contacts. Some 57 percent were infected while injecting drugs and over 40 percent of people got infected through heterosexual contacts.
"Young women who coexist in a civil marriage currently belong to the major 'high-risk' group," Pokrovsky warned.

In 2014, over 24,000 people died of AIDS-related illnesses in Russia. "That's comparable to the number of fatalities in road accidents," Pokrovsky said. Nearly 27,000 people died on the roads in Russia last year. "But while the government has developed a state program to fight car accidents, no one has taken care of the systematic fight against the AIDS epidemic.There's not even a specific official in charge of the issue," he pointed out.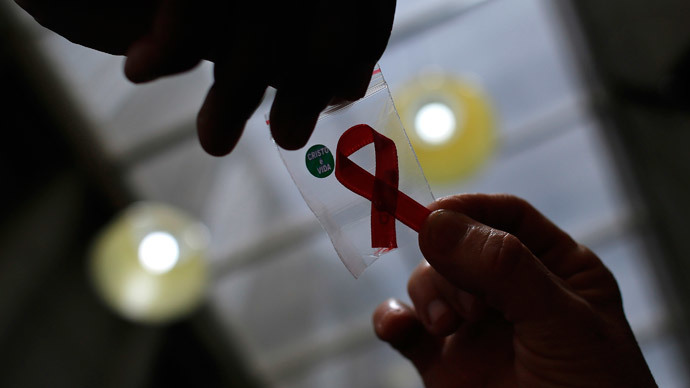 Of the 933,419 people registered with HIV, over 190,000 have already died. Pokrovsky was quoted as saying that some 90,000 contracted HIV in Russia last year, compared with fewer than 3,000 people in Germany, which has one of the lowest HIV rates in Europe.
Russia's Ministry of Health, according to Pokrovsky, is mainly focused on the treatment of those who already have HIV. This year the government plans to spend 21 billion rubles ($418 million) to fight the disease, up from 18 billion rubles a year earlier. It will be spent on so-called antiretrovirals that block the HIV reproduction process.
Pokrovsky says that only 200,000 are currently getting state-sponsored medications. "The budget is ready to treat about 30 percent [of HIV-positive], but international experience suggests that in order to slow down any epidemic, it's necessary to provide regular treatment to at least 70 percent of patients." On top of this, he says, only about 200 million rubles ($4 million) has been earmarked to inform people about AIDS in Russia, less than one American cent per person. "This is not enough," Pokrovsky says.
Some of the worst affected locales in Russia include the Volga city of Tolyatti with a staggering three percent prevalence.
READ MORE: First HIV self-testing kits go on sale in UK
To stop the epidemic, Russia's top AIDS expert recommends introducing a series of measures that have already proved successful in other countries. First, he says, Russia needs to allow substitution treatment for heroin addicts (methadone, a synthetic analog of heroin) which has been approved by the WHO. In this case if a person is HIV-positive, along with methadone he regularly takes medication that reduces the risk of transmitting the virus.
"Replacement therapy is what has stopped the AIDS epidemic in Europe," Pokrovsky says. As things stand now one syringe is being used by several people, but replacement therapy would remove the risk of passing infection to others, the expert says.
"Our officials say that it is unethical to treat addiction with another drug, but it's much more important to stop the AIDS epidemic now."
He says it's also necessary to introduce a system of social work with drug addicts, provide them with clean syringes to reduce the risk of infection for the whole of society. "We need to teach them how not to get infected and not to infect others," the head of the country's state AIDS center said.
Another key measure of prevention, successfully operating across the world, is the systemic education of adolescents on the need to protect themselves.
"In Germany, which boasts the lowest rate of HIV in Europe, sex education at school is mandatory," Pokrovsky says, adding that children there are taught to use condoms. "Unfortunately, in the Russian State Duma there's a large number of hysterics who instead of a quiet discussion immediately start screaming about filth."
"Sex education in schools will only boost children's interest in sex and lead to a surge of HIV and other diseases," Kommersant has quoted Moscow City Duma deputy Ludmila Stebenkova as saying. "Instead distributing condoms, we advocate faithfulness among youngsters and call for the creation of a healthy family. It's much more effective," Stebenkova added.
Cloned antibody shows promise for #HIV patients http://t.co/LY6ZWFWJiypic.twitter.com/Rpm6CCQFW7

— RT America (@RT_America) April 9, 2015
Since the start of the worldwide epidemic, about 78 million people have been infected by the killer virus and close to 39 million have died of AIDS-related causes like tuberculosis or pneumonia.
More than 35 million people are currently living with HIV, according to Amfar, an international nonprofit organization dedicated to the support of AIDS research, HIV prevention, treatment and education. Every day more than 5,700 people contract HIV—nearly 240 every hour. Almost 13 million people living with HIV (37 percent of the total) had access to antiretroviral therapy in 2013.
There are approximately 1.1 million people living with HIV in the US, and it's estimated that over 18 percent of those don't know they are infected. An estimated 50,000 new HIV infections occur in America each year, according to Amfar.
In 2010, gay men and other men accounted for 78 percent of new HIV infections among men and 63 percent of all new infections, although they comprise only 4 percent of the US male population.
Up to 131,000 people were infected with HIV in Europe and nearby countries in 2012, an 8 percent rise from a year earlier, according to the World Health Organization (WHO). Meanwhile, 100,000 (3 out of 4) cases were reported in countries in the East, while 31,000 cases were reported in Western countries. According to experts, this increase was related to a lack of prevention measures for people at high risk of contracting HIV.
In Asia and the Pacific, nearly 350,000 people became infected in 2013, bringing the total number of people living with HIV there to 4.8 million. AIDS claimed an estimated 250,000 lives in the region in 2013.
You can share this story on social media: