Russian battle robots shoot armored targets during field trials (VIDEO)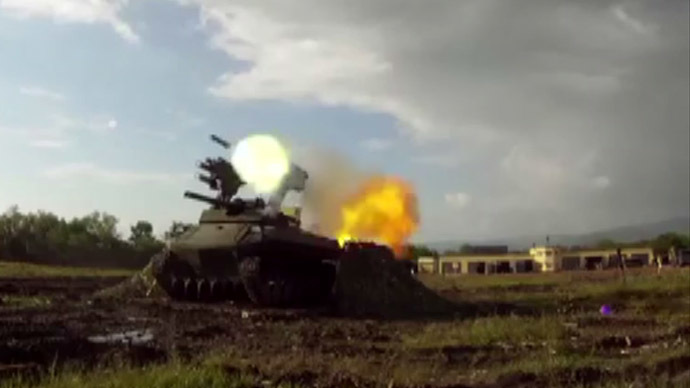 Russian battle robots armed with machine-guns, cannons and anti-tank missile launchers have undergone successful field trials, destroying all designated targets – including armored vehicles – at a maximum range, according to military sources.
Russia has successfully tested the robotic systems of the Uran family in a complex exercise at Rayevsky testing range range in Novorossiysk on Thursday, defense sources told a number of Russian news agencies. As compared to previous trials which tested robots individually, this time remotely controlled robots operated together as a military unit.
The exercise included engineering reconnaissance and long-rage firing tests of machine guns and automatic cannons installed on a robotic chassis of Uran family, the source told Ria.
"At the final stage of the exercises, battle robots practiced destroying armored equipment using anti-tank guided missiles," the source said, explaining that all systems were controlled from a remote secured command post.
"The combat robotic systems' operators have successfully hit all designated targets," the source added.
Russian Defense Minister Sergey Shoigu and General Staff Chief Valery Gerasimov as well as several other high-ranking military officials reportedly visited the trials.
Last year the Russian Defense Ministry confirmed its commitment to developing remote controlled and robotic military systems which by 2025 could replace up to a third of all military hardware. The ministry is due to unveil its range of ongoing robotic projects in an upcoming Army-2015 arms manufacture expo this June.
READ MORE: Military robots to shine at 2015 Russian army high-tech expo
The expo will feature wide-ranging developments in arms production and will showcase around 5,000 different examples of Russian military engineering. Among the tried and trusted exhibits there will two other models of the Uran family – Uran-6 and Uran-14.
The Uran-14 multifunctional robotic vehicle is designed for extinguishing fires in life-threatening, hazardous environments and inaccessible areas. The system is operated by using remote-control technology and is designed to protect high risk industrial facilities. It is equipped with the latest fire-fighting technologies, and two storage containers for water and foam.
The Uran-6 is a remotely controlled mine-clearing robot. The latest technology showcases bulldozer blades and trawls that searches and neutralizes the mines on a dangerous terrain. The Uran-6 can handle explosives with a potential of up to 130lbs of TNT equivalent.
You can share this story on social media: