PNG peeved at ex-colonial ruler Australia's diplomatic outpost plans
Published time: 14 May, 2015 14:24
Edited time: 14 May, 2015 14:44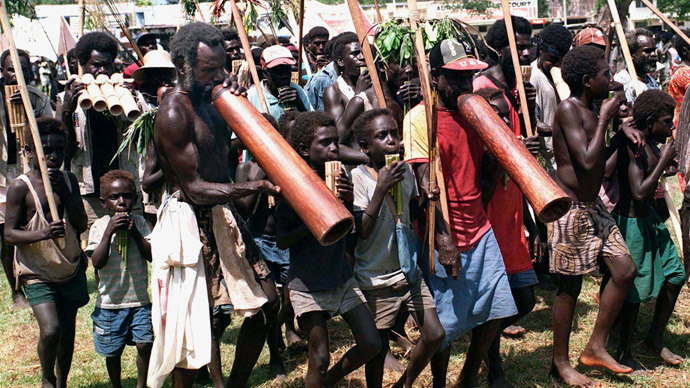 Australia plans to open a diplomatic mission on Bougainville Island, currently a territory of Papua New Guinea and soon to hold an independence referendum. The island, with vast deposits of copper ore, was an Australian colony until 1975.
This week Australia issued papers on the 2016 fiscal national budget, exposing plans to establish a diplomatic post on Bougainville.
"We were shocked to learn from the budget documents that Australia is planning on establishing a diplomatic post in Bougainville," said PNG's Prime Minister Peter O'Neill, as cited by Reuters.
"There has been no consultation on this proposal and there is no agreement to proceed," O'Neill said at a media event dedicated to 40 years of independence of his country. O'Neill stressed that "Bougainville is an integral part of Papua New Guinea."
World's newest independent state? Bougainville's road to independence starts at 2015 election http://t.co/g7F8K0K6Otpic.twitter.com/b0sjzCZbtX

— Nationalia (@Nationalia) May 14, 2015
A spokesperson for Australian Foreign Minister Julie Bishop said the proposal was discussed in December and Australia's High Commissioner to Papua New Guinea formally advised the government before the Australian budget was released on Tuesday.
The Autonomous Region of Bougainville is holding presidential elections ahead of an independence referendum. The results of the election that started on Monday will be announced on June 8.
After the election Bougainville will have a five-year window to hold a referendum on independence. Whoever wins the vote will negotiate the date and the exact question with Papua New Guinea.
A woman casts her vote in Konnuku, near Panguna. Day one of #Bougainville elections. #PNGpic.twitter.com/JW8adazVGl

— Liam Cochrane (@Liam_Cochrane) May 11, 2015
Bougainville Island and a number of smaller islands scattered around it were governed from Papua New Guinea as a protectorate of Australia from the end of World War I, when Australia occupied then-German New Guinea, Bougainville Island included, under League of Nations mandate. When PNG gained independence in 1975, Bougainville refused to remain part of it and declared independence, which proved to be vain.
The next attempt was made in 1990, yet the opposition from the mainland Papua New Guinea was so fierce that it led to a civil war which lasted until 1998 and resulted in complete blockade of the island. This brought tremendous hardships to its citizens.
A peace deal brokered by New Zealand implied that Bougainville would hold an independence referendum before June 2020.
Mekamui Tribal Govt in #Bougainville says Panguna 100 % behind Momis http://t.co/2p7QhtzVYJ@HaywardJenny@anussgmpic.twitter.com/xHYk4FD79k

— Bougainville News (@BougainvillNews) May 7, 2015
Bougainville and its neighboring islands have an estimated population of 250,000, comprising many ethnic groups that speak estimated 26 languages. Bougainville's land area is 9,300 sq km.
Before the civil war, resources giant Rio Tinto ran the Panguna copper mine on Bougainville. The mine was the largest employer and single source of export revenue in PNG, providing up to 7 percent of the world's copper production.
Opposition to Bougainville's Panguna mine higher than media suggest http://t.co/oNosQTeGBn@FongRoka@auspngnetworkpic.twitter.com/ZF79vgz7g2

— Bougainville News (@BougainvillNews) September 15, 2014
The mine was abandoned in 1991 due to the civil war. Rio Tinto has stated it could resume operations at Panguna if the political situation on Bougainville Island stabilizes.