'Sexual distraction': Canada teen suspended from school over dress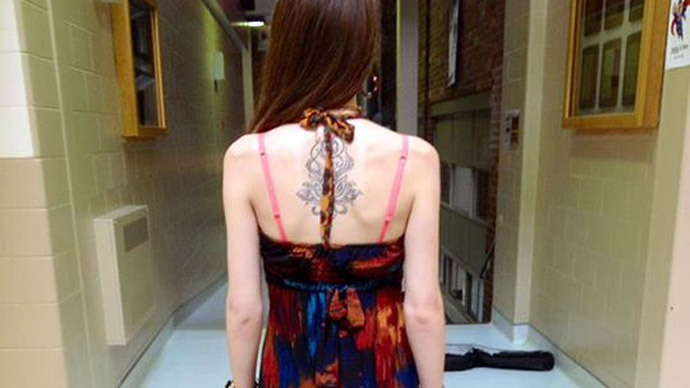 A Canadian girl suspended from school after her dress was deemed a 'sexual distraction' has won an army of supporters on social media. Lauren Wiggins said she's tired of the "discrimination against our bodies" and pledged to reshape the public mindset.
"Enough is enough," Lauren, 17, stated in a Facebook post, adding that she's "absolutely fed up with comments that make us feel like we can't be comfortable without being provocative."

The Grade 12 student was told by that the halter dress (that reached the floor but showed her shoulders and part of her back) she wore to school on Monday was "inappropriate" being a "sexual distraction" to others.
All I'm saying is what kind of boy is aroused by a girls neck and back to the point the girl should be suspended? #LaurenWiggins

— Eric Janvier (@ClassicJanvier) 14 мая 2015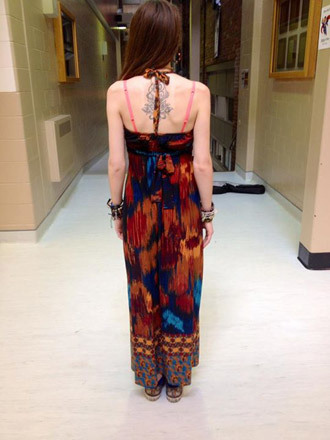 The dress code policy posted on the school's website, informs that "all students dress with appropriate taste in order that the educational process is not disrupted. Dressing for school means that you wear clothes in the manner they are intended to be worn."

It adds that while at school "students shall be dressed and groomed in a manner that will neither adversely affect the instructional program nor violate reasonable and acceptable standards of cleanliness, safety, or appropriateness as judged by the principal and administration of Harrison Trimble High School."
The teenager has posted on her Facebook page the letter she wrote to her vice-principal Shane Sturgeon.

"In today's society the woman's body is constantly discriminated against and hypersexalized to the point where we can no longer wear the clothing that we feel comfortable in without the accusation and/or assumption that we are being provocative. This unjust mindset towards women is absolutely absurd. The fact that authority figures, especially males, can tell young women they must cover up their shoulders and their back because it is 'inappropriate' and 'a distraction' is very uncomforting," the student wrote in her letter.
Lauren Wiggins. Wherever you are, I SALUTE you. #laurenwiggins

— Jasmine (@iiiFly) 13 мая 2015

"If you are truly so concerned that a boy in this school will get distracted by my upper back and shoulders, then he needs to be sent home and practice self-control," she added.
#LaurenWiggins Just because you should be able to be free doesn't mean its safe. The World is what it is and people are what they are.

— Paul L Harris (@paulishus) 14 мая 2015
"Yes, I understand there are restrictions to how much and how little of your body that shows, but that applies when people show up in their bikinis or bra and panties," Lauren stated.

"Schools are the social building blocks in an adolescent's life meant to teach them how to communicate and develop relationships with others and also learning about themselves and who they want to be," she concluded.
Posted by Lauren Wiggins on Monday, 11 May 2015
As of Thursday afternoon, Wiggins' Facebook post has received over 1,100 shares and a number of comments from supporters, including her father, Paul, who said he saw his daughter's outfit and there was "nothing provocative about it."

"Perhaps your teachers should learn that 16-18 year old boys get a hard on if the wind blows!! Tell your teachers to call me-I'm sure I'll have something to say!!!" he wrote.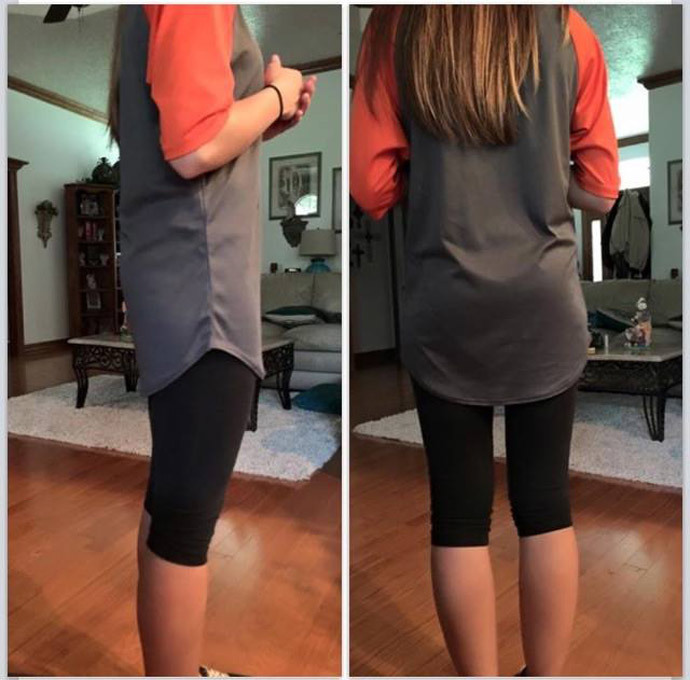 A similar case occurred last month in Orange County, Texas, when a 12th-grade honors student, Macy Edgerly, was sent home from school for wearing leggings and a long athletic shirt. Her outfit was deemed inappropriate. Her sister, Erica Alyse Edgerly, posted photos of Macy's outfit to Facebook saying: "People wonder why women feel insecure about their bodies or what they wear. And it's because you're told your clothing is inappropriate when you're completely fully clothed, even when you're not showing cleavage or anything. How about instead of body shaming women, school systems should start teaching 15-18 year old boys to stop degrading women with their eyes and contributing to the rape culture of today's society," she wrote, her post receiving over 95,000 shares.

"Bottom line, girls cannot go to school in comfortable clothes that cover everything because school systems are afraid that hormonal boys won't be able to control their eyes and minds. And that is such a bigger problem than worrying about clothing," she added.
You can share this story on social media: