Ethiopian Jews march in anti-racism protest in Haifa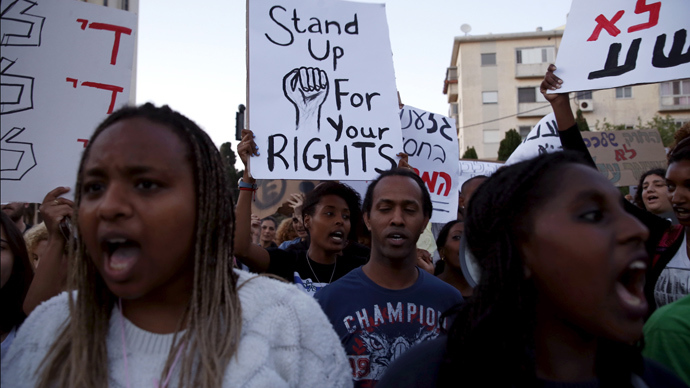 Hundreds of Ethiopian Jews have rallied peacefully against discrimination and racism in the Israeli port city of Haifa, a week after Tel Aviv witnessed violent street clashes that left 65 people injured.
The main point of contention in weeks-long protests lies in the discretionary treatment of dark skinned Ethiopian Jews, that sparked nationwide outcry against police brutality following the earlier publication of a video showing police beating an Israeli man of Ethiopian descent.
"Black or white, we are all human beings," was the main slogan that united the activists in the Carmel Center in Haifa.
Hundreds of Ethiopian Israelis protest in Haifa: Enough of racism http://t.co/pHIoCZtfHqpic.twitter.com/YNVNH5AZ8X

— Twins Gist Mag (@Twinsgistmag) May 12, 2015
Police blocked the roads as the mixed crowd demanded respect from the authorities. The activists, both of Ethiopian descent and locals that showed up in support, carried signs that read: "Don't distinguish blood from blood, we are all humans." There were no reports of violence, police said.
READ MORE: Police fire tear gas during demo against racism, police brutality in Tel Aviv (VIDEO)
One of the organizers of the demonstration told Ynet news, that "after 30 years, the country should provide answers to the question of how it's possible that members of the community continue to suffer from discrimination and crime in the neighborhoods they live in."
מצטרף לקהילת יוצאי אתיופיה במאבקם הצודק נגד הגזענות בחברה הישראלית. גאה להשתתף באופן פעיל בהפגנה המתקיימת הערב בחיפה. pic.twitter.com/teWPDZQBLy

— Dekel Keinan (@DekelKeinan) May 12, 2015
Earlier on Tuesday, the Israeli lawmakers met at a special Knesset session to address the recent tensions in the Ethiopian Israeli community. Approximately 135,500 Ethiopian Jews live in Israel, and more than a third of them – over 50,000 – were born in the country.
Systematic segregation in Israeli society, is something that the opposition leaders urged the Likud and PM Benjamin Natanyahu's government to put an end to.
דיון בכנסת על מחאת יוצאי אתיופיה."הנשיא אמר לנו-אם מה שסיפרתם על אלימות המשטרה נכון צריך לסגור את המדינה"@ynetalertspic.twitter.com/acIQts0urp

— Roi Yanovsky (@Roi_Yanovsky) May 12, 2015
"The authorities' treatment of people with different skin color needs to be put on the table and discussed," Zionist Union leader Issac Herzog said according Ynet. "Recent events are a dramatic wake-up call for all of the citizens of Israel," Herzog said during the discussion.
Former Israeli MP and the first Ethiopian-born woman to become a parliamentarian, told the lawmaker that the "systematic racism" against Ethiopian Jews was long-neglected while Joint (Arab) List MK Dov Khenin said that institutionalized racism was behind the unrest.
READ MORE: Police fire tear gas during demo against racism, police brutality in Tel Aviv (VIDEO)
"Racism is a disease that affects many communities within Israeli society, and threatens us all," he said, the Times of Israel reports.
Last week, security forces fired pepper spray and stun grenades during a protest against racism and police violence, staged by Jews of Ethiopian descent in Tel Aviv. Some 65 people, including policemen, were injured in clashes.
Street protests began late April after a clip emerged showing policemen shoving and punching a black soldier. Officers in the video were suspended of their duties.
You can share this story on social media: