Poroshenko violates Minsk deal vowing to recapture Donetsk Airport - Kremlin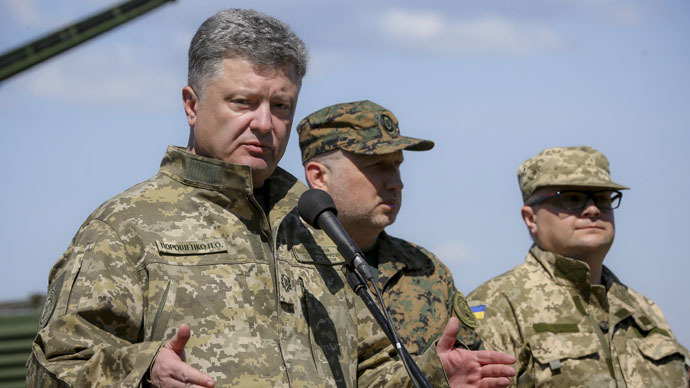 The Ukrainian president's decision to reclaim Donetsk Airport, a key strategic point in the conflict in the country's east, are in violation of the Minsk peace deal, says the Kremlin.
Petro Poroshenko vowed on Monday to take the airport back: "I have no doubt - we will free the airport, because it is our land. And we will rebuild the airport." He also promised to erect a monument to the "cyborgs," which has become a common nickname for the Ukrainian soldiers that fought against the forces of the self-proclaimed eastern republics for control of Donetsk Airport.
Poroshenko spoke at the premier of the documentary "Airport", which was dedicated to the siege.
When asked if he thinks such words violate the Minsk peace deal, the Russian president's press secretary said they do: "Of course, they are a violation. In fact, we have repeatedly said that Ukraine is not complying with the Minsk agreement."
The US State Secretary John Kerry, when asked by the media about Poroshenko's statements, said he knew nothing about them. He said, though, that he would warn the Ukrainian President against inciting any new hostilities. Kerry spoke at a media briefing following lengthy talks with the Russian President and Foreign Minister.
READ MORE: Avoiding further harm to US-Russia relations 'absolutely necessary' – Lavrov
The Minsk deal is a peace roadmap for Kiev and the self-proclaimed republics in eastern Ukraine. Brokered by Russia, Germany and France, it was signed in the Belarusian capital in February. It aims to implement the peace process agreed upon in the September 2014 talks, also in Minsk. Since February's agreement was signed, the violence in the East has reduced, but both Kiev and the secessionists blame each other for violating the truce regularly.
As part of the Minsk deal, the sides agreed to move heavy weapons away from a demarcation line drawn across eastern Ukraine. The self-proclaimed Donetsk Republic says this leaves the airport in its territory. Its representative to Minsk Denis Pushilin says Poroshenko's vow to reclaim the airport is a call to arms: "This is a direct violation of the Minsk agreements and a call to military action. We ask that the guarantor nations pay attention to these statements."
READ MORE: Putin: Russia can influence E. Ukraine, but it's up to Kiev to solve crisis
Donetsk Airport has been one of the hottest flashpoints in the conflict in eastern Ukraine for about eight months. In January, Kiev admitted its forces completely surrendered the airport.
During the lengthy siege the airport was reduced to rubble. The casualty count is impossible to verify, with the two sides giving vastly different numbers, both saying they had lost dozens while claiming the opponent had lost hundreds.
You can share this story on social media: