Sniper fire, explosions: 8 Macedonian police dead after clashes in Albanian district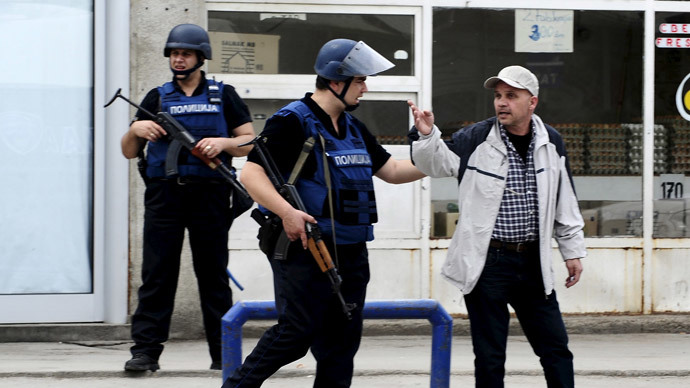 At least eight police officers and 14 "terrorists" from Kosovo have been killed in clashes in the Albanian-majority area of a northern Macedonian town. Gunfire and explosions lasted for over 24 hours.
Thirty-seven officers were wounded in an operation launched in the town of Kumanovo, Interior Ministry spokesman Ivo Kotevski said, adding that there haven't been any civilian casualties. The suburb in Kumanovo remains locked down by special police units.
Local Albanian media reported that about 30 of the militants surrendered, while another 15 gunmen were reportedly able to escape.
Police revealed that the armed group illegally entered Macedonia from a neighboring state, without providing any more details. Local media suggest that the group came from Kosovo, which is populated mostly by ethnic Albanians.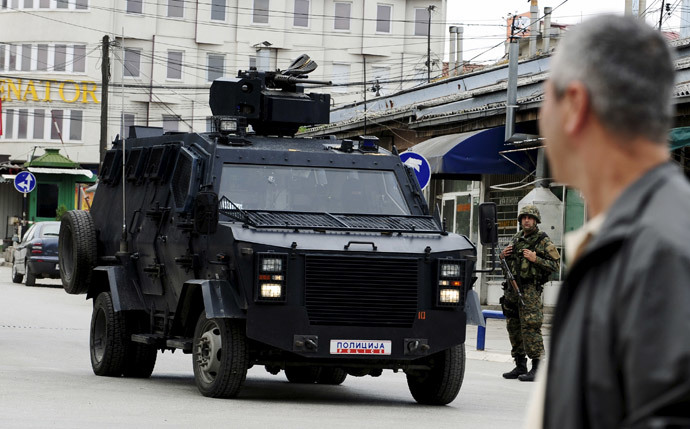 READ MORE: Ethnic clashes in Macedonia leave dozens injured (PHOTOS)
Kotevski said earlier that someone in the local population was providing shelter to the armed group.
The violence was triggered during a police raid in the area. Officers faced "violent resistance" from snipers, grenades and automatic weapons, according to police.
"This is a risky operation because it is an area with narrow streets and police need to perform house-to-house searches very carefully," Kotevski told AFP.
Local residents, mostly women, children and the elderly, were seen evacuating. "I thought it would never come to this again," an unidentified ethnic Albanian man told Macedonian television. "It's so scary, we can't stay here."
READ MORE: Albania flag-flying drone stops Serbia soccer match, sparks scuffles (PHOTOS)
Macedonian President Gjorge Ivanov was forced to cut his trip to Moscow short to deal with the incident.
It comes as the government is under domestic pressure, being accused of illegal wire-tapping. The country's capital, Skopje, witnessed thousands of protesters clashing with police on Wednesday.
Macedonia went through an ethnic uprising when rebels demanding more rights for ethnic Albanians took up arms against the government in 2001. The conflict was quelled by a peace agreement, which guaranteed greater recognition of Albanians. Tensions in the area have remained, however.
The most recent incident happened less than three weeks ago when around 40 ethnic Albanians from Kosovo took control of the Macedonian police station on the northern border for a short period of time. They called for the creation of an Albanian state in Macedonia.
READ MORE: $100bn NATO claim: Serbian NGOs seek compensation for Yugoslavia bombing
Kosovo effectively split from Serbia after NATO's bombing of Yugoslavia in 1999, an operation launched without UN consent. NATO intervened in a years-long ethnic conflict between Albanian separatists and the Serbs, which at the end of the 90s saw Yugoslavian armed forces fighting the rebel Kosovo Liberation Army. Both sides carried out crimes based on ethnicity. Today the non-Albanian population in Kosovo continues to be persecuted despite the UN peacekeeping force there. Major incidents compared to ethnic cleansing still occur, including significant unrest in March 2004.

Kosovo unilaterally proclaimed its independence from Serbia in 2008, but remains only a partially recognized state. Macedonia has recognized Kosovo in a move believed to be connected with its own ethnic tensions with Albanian residents and insurgents.
You can share this story on social media: