Coup de grace: Nazi Berlin's fall in RT's 3D reenactment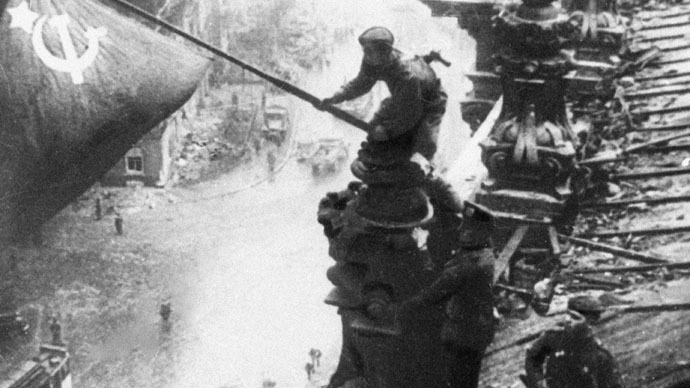 The last major battle of WWII in Europe came in April-May 1945, as the Red Army surrounded the German capital and pushed inwards to decapitate the Nazi regime. In a last-ditch attempt to turn the war around Nazi leaders rounded up civilians to fight.
By the time of the offensive, Soviet and Polish troops outnumbered the resisting German forces in both manpower and hardware. However, Berlin was fortified in preparation for defense and the sheer number of troops participating – which included some 2.5 million attacking and 770,000 defending – meant there would be no easy taking of the city.
Supporting regular troops in the street battles were members of the Volkssturm militia and Hitler Youth organization as young as 16. Nazi leaders ordered harsh punishment up to execution on the spot for deserters.
On April 23, the first Soviet troops started fighting their way into Berlin's suburbs. By April 27, the city was fully encircled, and fierce battles were raging in its streets.
"Of all the operations I lived through during the war, the Berlin operation was the hardest, the most difficult," Vladimir Lebedev, a veteran of the war, told RT.
"Imagine a huge city packed with fascists. They were shooting from everywhere. From basements, windows, attics. Bullets were whistling by. It's a miracle anyone survived. Out of 100 soldiers born in 1923-24, only three returned home. And out of the 1,000 reconnaissance troops, only seven," he recalled.
Despite the desperate resistance, Berlin fell by May 2, although episodic clashes continued throughout the city. The Reichstag building became a scene of intensive fighting on April 29, which culminated two days later with lifting of a red flag on its roof – the fourth to make it there, but the first not to be destroyed by German artillery fire.
Several key figures in the Nazi government, including Adolf Hitler himself, committed suicide rather than be taken prisoner by the Soviet soldiers. Others surrendered to stand trial for war crimes. The unconditional capitulation of the Germany army was signed on May 8, but in Moscow it was already the next day, which explains why V-Day is celebrated on May 9 in Russia.
Listen to more witness accounts of the Battle for Berlin at RT's "War Witness: Heritage" webpage. Also visit the Victory Day project dedicated to the 70th anniversary of the end of the defeat of the Nazi Germany.
You can share this story on social media: