Italy's Fiumicino Airport closed, terminal buildings evacuated due to fire & smoke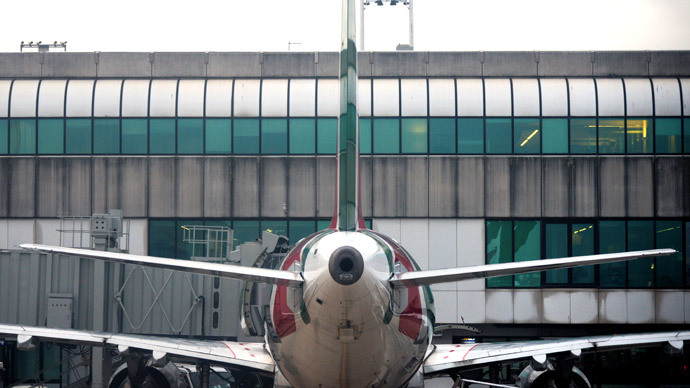 Rome's key airport, Fiumicino, closed after a fire broke out in an underground baggage storage area shortly after midnight. At least three people suffered from smoke inhalation, a fire brigade official told Reuters. The terminal buildings were evacuated.
Passengers who happened to be at the airport at the time of the accident shared photos of thick smoke on social media.
#LATEST: #Fiumicino Airport in #Rome totally closed until 14h00 due to fire in Terminal 3 - via @Agenzia_Ansa#Italypic.twitter.com/OwH82bD99Q

— Rodrigo Barbosa (@RodaLarga) 7 мая 2015
Up to 20 firefighting trucks attended the scene. The main highway linking Fiumicino to the capital was closed to allow emergency vehicles to pass.
MORE on the fire in #Fiumicino Airport Terminal 3 in #Rome (in italian): http://t.co/YOj7zcFO4F - via @repubblicaitpic.twitter.com/18QwL3iIH3

— Rodrigo Barbosa (@RodaLarga) 7 мая 2015
Officials said there were no serious injuries, however.
Despite media reports of Rome Fiumicino Airport being closed some flights keep landing. pic.twitter.com/C0UmkDTFWc

— Flightradar24 (@flightradar24) 7 мая 2015
The fire broke out in Terminal 3, which is used for international flights.
Firts Consequences of #Fiumicino#airport 's fire: rowing team should be flying now to #Rome@Alitalia@ElHuffPostpic.twitter.com/sLIfG7kMJB

— Antonio Guzmán (@AGuzmndlC) 7 мая 2015
According to the fire brigade official, the blaze was under control. The cause of the fire is unknown, however.
Caos #Fiumicino Rome. "A fire at Terminal 3, an accident I believe, hope no victims" a police officer tells me pic.twitter.com/Lt8466g0ds

— Gianni Riotta (@riotta) 7 мая 2015
The airport is expected to remain closed until 2pm (1200 GMT).
Rome #Fiumicino Airport to be closed until 2pm After Fire at Terminal 3 last night

— Tommaso Ebhardt (@TEbhardt) 7 мая 2015
Rome Fiumicino Airport closed because of a fire. There go my travel plans for the day!

— Elizabeth Ames (@mslizames) 7 мая 2015
You can share this story on social media: