RT's Paula Slier leaves Ukraine following call for her arrest, death threats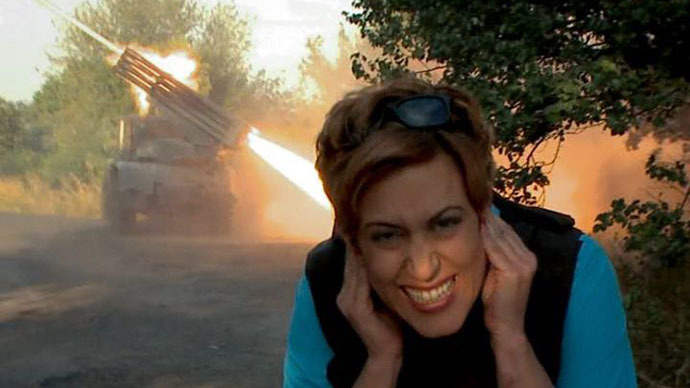 RT correspondent Paula Slier, who covered the fire near the Chernobyl nuclear station, has left Ukraine after a local journalist urged security services to detain her. Some commentators were calling for the RT reporter's death.
The public call to arrest Slier was posted on Facebook by Denis Kazansky, a blogger and journalist for Ukrainsky Tizhden (Ukrainian Week) magazine.
"The worker of the Kremlin propaganda channel Russia Today [RT] Paula Slier, who laughingly reported on self-defense forces burning Ukrainian soldiers alive with 'Grad' missiles, moves freely about the country," he wrote.
"Sirs from Ukraine's Security Council, it's your mistake. Maybe even Graham Philips could arrive? Those rascals shouldn't be in our country," Kazansky added.
The Facebook allegations triggered a flood of angry comments, with some users calling for the murder of the RT correspondent.
Thank you to everyone who alerted me about the threats - after being made aware of them I left Kiev and am now out of Ukraine

— Paula Slier (@PaulaSlier_RT) May 5, 2015
A number of Ukrainian media outlets also reported on the Facebook entry.
Another Ukrainian journalist, Anatoly Shary, posted a YouTube video accusing Kazansky of lies and fact-spinning, attempting to prove that the accusations against Slier are a sham initiated by Ukrainian journalists.
It is not the first time Slier has faced online death threats. She received them in September 2014, when she was reporting from the frontline in eastern Ukraine. It was then that she was accused of "smiling," while reporting next to the Donbass rebels firing Grad missiles at the alleged positions of the Kiev troops.
READ MORE: Bias and death threats on E.Ukraine frontline
But as you can see from the video, Paula is actually wincing from the loud noise of rockets being launched close by.
Having worked in war zones before, Paula is no stranger to life-threatening situations, but she says with a targeted campaign like this it is different: "I am used to working in Syria, Afghanistan and Iraq but it's a different kind of fear - you risk for example being in the wrong place at the wrong time and facing kidnappings, bombings and the like; but here it's being afraid that someone will recognize you amid a conscious effort to catch and hurt you."
In the face of the multiple threats, RT head Margarita Simonyan is calling on the Ukrainian government to provide safety for media workers:
"The threats made against Paula have once again demonstrated that Ukraine does not have proper working conditions for journalists, even when they cover important stories such as the Chernobyl fire, and other issues entirely unrelated to politics. We are extremely alarmed by the fact that reporters have to fear for their lives, and we call upon the government of Ukraine to ensure a safe environment for the press."
The Russian Investigative Committee has started a criminal probe against Ukrainian political scientist Yury Romanenko, who advocated the killing of Russian journalists at his Harvard lecture about a month ago, and later posted the speech on Facebook.
Paula Slier has worked for RT since the channel was founded in 2005, and is a military correspondent who's covered numerous conflicts: in Syria, Libya, Egypt, Palestine, Israel and Ukraine.
In 2013, Slier was declared one of the most influential South Africans in the world.
You can share this story on social media: