​Legendary Bolshoi ballerina Maya Plisetskaya dies at 89
One of Russian ballet's most iconic dancers, Maya Plisetskaya, has died of a heart attack in Germany at the age of 89.
"Her husband, [the composer] Rodion Shchedrin has just called me. She died from a massive heart attack – the German doctors did their best, but she could not be saved," Bolshoi Theater general director Vladimir Ourin told TASS news agency.
We are saddened to hear that Maya Plisetskaya, one of the greatest ballerinas of all time, has passed away today. http://t.co/e1OM5cw5YY

— Mariinsky Theatre (@mariinskyen) May 2, 2015
As tributes poured in from the world over, Russia's prime minister Dmitry Medvedev, called her a "genius," and her passing "an end of an era."
Known as both a superlative technical and dramatic performer, Plisetskaya was a mainstay on the stage of Russia's premier ballet for more than five decades, retiring as a soloist only in 1990, at the age of 65.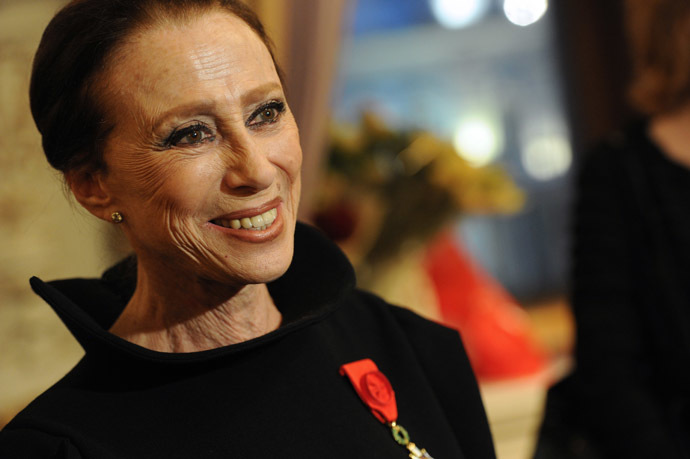 Born into a prominent Russian-Jewish artistic family, Maya saw her parents arrested, and her father executed on trumped-up political charges during Stalin's purges in the late 1930s.
She was accepted into the Bolshoi at eighteen, and soon became one of its stars.
But her rise to international fame came when her ban on international travel was personally lifted by Nikita Khruschev in 1959, a year before she became the prima ballerina of the Bolshoi.
As she traveled the world, performing her trademark piece, The Dying Swan, and the lead parts in Swan Lake , Spartacus, and The Sleeping Beauty, she became synonymous with Soviet ballet itself, which was undergoing a resurgence.
As the 1970s and 1980s went by, Plisetskaya became as famous for her longevity as much as her prowess, her silhouette unchanged, and her movement as graceful.
In 1983, she became one of the first Soviet celebrities allowed to work for Western dance companies without having to defect, when she became the artistic director of the Rome Opera Ballet.
From the 1990s she split her time between Russia and Europe, one half of a power couple with Rodion Shchedrin, a virtuoso pianist and world-renowned composer. Despite being married for over 50 years, Plisetskaya never had children, saying "it was a choice between a career and childcare, and I chose the former, a decision my husband grudgingly accepted."
You can share this story on social media: